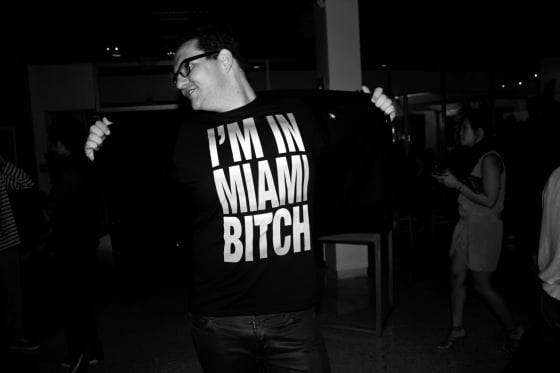 After a warm up week partying hard in the rarified reaches of Palm Beach wasperama, we made our way to South Beach Miami  and Art Basel. Arriving at the jaw dropping pad of a master of the universe pal in the phallic Portofino Towers, we settled in and steeled ourselves for the upcoming week of debauchery and art immersion.
Stepping onto Ocean Drive, we were pleased to encounter our friend Sir Ivan Wilzig the self proclaimed "Peaceman", musician and bon vivant extraordinaire. After exchanging pleasantries, we complimented him on his over the top La La Land record release party at his New Jersey Rococo castle in the Hamptons last summer. Ivan invited us to his mother Naomi's World Erotic Art Museum upcoming opening of a massive Helmut Newton show. He also hinted at a possible Wilzig family reality show that Lionsgate may produce. Honey Boo Boo and the Kardashians beware.
Tuesday evening we made our way up Collins Avenue to the art deco district for the pre opening party for Art Basel at the venerable Raleigh Hotel. Swiss banking giant and primary Art Basel sponsor UBS spared no expense at the lavish fete where high powered corporate guests rubbed shoulders with artsy unwashed Euro types. Ruinart champagne flowed endlessly and the 800 guests gorged themselves on filet mignon, stone crabs, lobster, giant shrimp,coconut infused grouper crudo, kumamoto oysters and key lime tarts. Davidoff cigars, another festival sponsor provided air pollution. As if we needed more food, we waddled down Collins in a champgne haze to the Dream Hotel where primo NYC Italian restaurant Serafina held a grand opening.
All this and still two days before Art Basel actually begins.