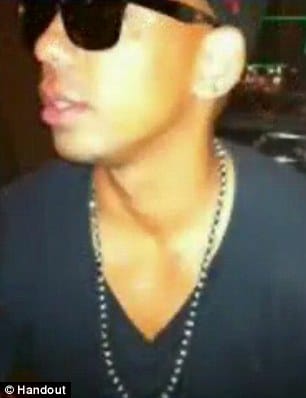 It is believed a 31 year old aspiring rapper was the victim of a 'targeted hit' after he was brazenly gunned down in broad daylight in NYC yesterday afternoon whilst walking in the busy area of Columbus Circle.
The rapper, Brandon Lincoln Woodard, was visiting from Los Angeles it has been learned was murdered by a man who had stalked him for 40 minuted amidst busy midtown NYC streets.
After having simply fired one round into the back of the man's head the assailant then turned to flee, getting into a waiting Lincoln MKZ sedan. To date he is still at large.
The victim still conscious for up to another two minutes according to witnesses lay on the ground with copious blood pouring out of his head, with one witness remarking half his face had been blown away.
Complicating matters in the death of the young man is the fact that Woodard also had a criminal past, including chargers for cocaine possession and hit and run driving which may or may not suggest gang related altercations were in play.
That said, the young man's father, J Lincoln Woodard has adamantly stated that the young man was 'a very good loving son,' and had recently enrolled in law classes, hinting that he was aware his son had been in previous strife and was now seeking to turn his life around.
Nevertheless it has now been revealed that J Lincoln Woodard had not seen his son since his 1999 high school graduation, which in and of itself raises a multitude of questions. At present it is not understood whether the young man's mother whom divorced his father mandated that the son not see his father or whether the father had chosen to purposefully extricate himself from his son's life.
Authorities have attested surveillance cameras recorded the shooting and that other cameras in the area recorded the killer waiting for Woodard for at least 40 minutes. After reviewing the footage from the area they believe they have a picture of the gunman.
At present Investigators are probing a possible connection to drug dealing. Police are also looking at Woodard's ties to the music industry. He once claimed he was roughed up by bodyguards working for R&B star Usher.
Commentated one reader on the web: 'NYC is once again becoming the wild west.' Or could it just be one young man was desperately trying to keep the Wild West from ever tainting him ever again? Such are the tales of urban living in America…