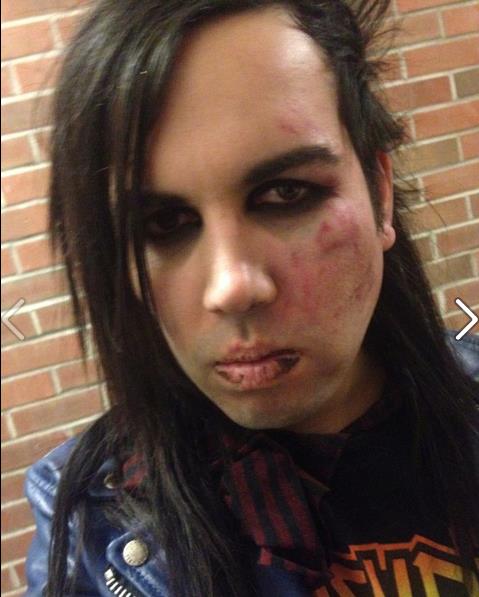 And these are the fun things that sometimes go on when you don't pay people their cash. Or so they reckon anyway…
Kids did you manage to hear the deafening thud of a Christmas tree smashing against the side of club promoter Samuel Valentine's head recently?
Reckons Valentine via page 6 of Le Souk owner Marcus Jacob and one of the bouncers who he accuses of accosting him:
"One of the bouncers grabbed me and choked me from behind, and dragged me out. The bouncer was holding my legs . . . Marcus grabbed my hair and put it under his shoe so I was vulnerable, and stomped on my hand and started punching my face. A second bouncer started punching my rib cage."
Kids I'm jealous. Life hardly gets more delicious than having bouncers and club owners smashing your face in cause your a touch obnoxious. Or that's at least what Jacob's wife, Lamia Funti reckons. Let's hear what she has to say about the 'I've got a bigger ego than you bixch,' saga.
"Sam called me a bitch and pushed me," she says, speaking on the couple's behalf. "He [started] pushing everybody, so security grabs him so he doesn't take it farther." 
And this is what Valentine said to blackbook:
when i ask MARCUS JACOB the owner of the club for my check he said 'i dont have it.' we weren't going to get paid. i told him i have to get paid cause i need the money and we started a heated verbal argument he was on the inside of the bar i was on the outside area. after words were exchange he pointed at a bouncer said 'take him out.' he grabbed me from behind to drag me out so I tried to get loose cause I wasn't fighting anyone and just wanted my money. The bouncer was able to drag me out and Marcus came from behind the bar and walk out with bouncer. instead of taking me to the street and throwing me out they held me in the entrance between 2 doors where Marcus grab my hair put it under his shoe , put my right hand under his other shoe and started punching my face multiple times, at this point i got scared had to do something so I tried to lift my head by pulling my hair from under his shoe when a bouncer saw this he started punching my left rib cage. At this point  I just screamed that I was going to call the cops and sue them, I told them this was illegal and to just let me walk out on my own, money was not important at this point. Someone that saw the whole thing call 911 told them someone was getting beat up then I also called . The cops showed up and one approached me to get my story and as I'm giving the cop the story another cop comes out of nowhere and shoves me and says 'when you talk to us you dont stand that close'. That was weird. I told them I wasn't trying to start anything with the cops… I needed their help. One cop went inside to get Marcus story then came out minutes later saying they had video proof of me breaking their heating system and a Christmas tree which never happened.  I was shoved by them onto some sort of Christmas tree after they were dragging me. So the cop told me my option was we both get arrested, me and Marcus, or I have to just go home. Marcus at that point had left so I knew it be just me getting arrested so I decided to leave so I could go to the hospital and file a report against them."
And for his part this is what Valentine had to say on his facebook wall:
THE WOLF PARTY is officially done at LeSouk tonight when the manager refuse to pay me what im owed we got in a verbal argument, it happens two people with different ideas then he proceed to have 4 of he's bouncers hold me down beat me up while he pounded at my face without me having a choice when i said id call the cops he said "are you going to call them" "really" and kept pounding at my face harder thinking id call a deal but i didnt id rather die than give up on what i believe is right. When i call the cops they where against me cause the club pays them cops out to protect them. Corrupt NYC. FUCK THIS CLUB POLICY, manager was first to disappeared once cops showed up, and cops told me either i get arrested or i let it go, this dont end here ill die before i let them get away with this shit.
Valentine in the interim who ended up in hospital is now looking for a lawyer. Can you guess why Marcus?