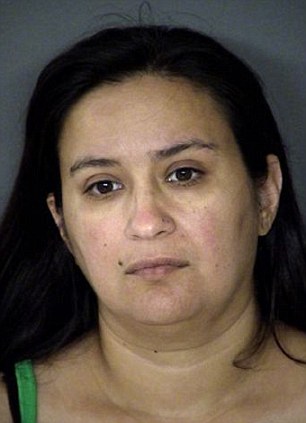 36 year old Amanda Sotelo, a married substitute teacher and mother of two has been jailed pursuant to admitting that she had sexual relations with a 14 year old boy at the school where she from time to time substituted which coincidentally has led to her now expecting her third child.
Perhaps what makes the relationship with the student equally beguiling is the fact that Amanda Sotelo met the boy through her daughter, whom one day brought the boy home.
The relationship said to have gone on for several months involved Amanda Sotelo and the boy having sex at least once a week whilst Sotelo worked as a substitute teacher at a variety of schools in Bexar County, Texas.
The relationship it is understood initially began with the two initially discussing their problems before turning sexual (the irony being that the onset of sexual relations only led to the two experiencing greater problems….).
Perhaps what underscores the travesty of the affair is the notion that Amanda Sotelo abused her authority as a school teacher as well as her seniority as a kind of erotic aphrodisiac that may have consumed her despite probably understanding what she risked by proceeding with the illicit relationship. One is also compelled to wonder if the sexual abuse of the boy acted in a way to emasculate the youth which in some way emboldened Amanda Sotelo and perhaps says a lot about her and other similar women's relations towards men.
At present Sotelo has been booked with charges of indecency with a child and her bond has been set at $75 000. Sotelo was arrested after the boy's mother went to police in Bexar County, Texas, to reveal details of the affai
KABB Fox San Antonio :: Top Stories – Substitute Teacher Accused of Having Sex With Student