Leonardo DiCaprio is now officially ready for a change of scenery…
Ladies (and by that sadly Leo has asked me to qualify only all you top models) have you ever wanted to live the furious life of a jet set star, dine and wine in all the exclusive venues your mind can imagine, travel to off the beaten path exotic destinations you thought you would never see in your lifetime all whilst being serenaded by an action packed Hollywood movie star? Of course you have (I know I have) which is good news cause our collective hero Leonardo DiCatchaHo DiCaprio is now advertising for a new piece of arm candy to be well his arm candy bixch.
The NY Trash Post explains: Leonardo DiCaprio has split with his supermodel girlfriend Erin Heatherton after nearly a year of dating because he "is not ready to settle down," sources exclusively tell Page Six.
We are told the actor, who is currently filming "The Wolf of Wall Street" in Manhattan with Martin Scorcese, broke things off with the blond Victoria's Secret beauty last week.
Broke things off? Hmm is that a code word for Leo had a look  at his speed watch and realized that Erin's time was way up and it was now time to move on to the next eye candy piece?
One source told us, "Erin wanted things to get more serious between them, but Leo is not ready to settle down.
"While it would seem amazing that he wouldn't want to settle down with one of the world's most beautiful women, Leo leads a charmed life."
Leo wants a charmed life? Yes it's true Leo whispered in my ear he only ever wants a charmed life. It's what at the end of the day turns him on. That and of course the scent of vanilla moisturizer dripping off the skin off his next Victoria's Secret top model girlfriend rubbing her private parts against his loin…
The Post goes on to talk about some gibberish about Erin being the one or something like that until Leo woke up to his senses and realized that bixch has got too many billions in the bank vault to settle down for one piece, especially since his resume reads like a who and what of the modeling world he already banged and can still bang.
And then there's this gibberish via Us Weekly that is trying to make out that Erin isn't t right now hurtling sword blades and bleach down her tonsils in abject despair:
'They split a few weeks ago. There's no bad blood -– they still care about each other a lot.'
The insider explained the pair's hectic work schedules is the reason behind the break-up.
'They're both just really busy, they had crazy schedules,' the source added.
'They still love and respect each other very much. It was just time to move on.'
Yes time to move on. Time for Leo to find a new arm candy piece…..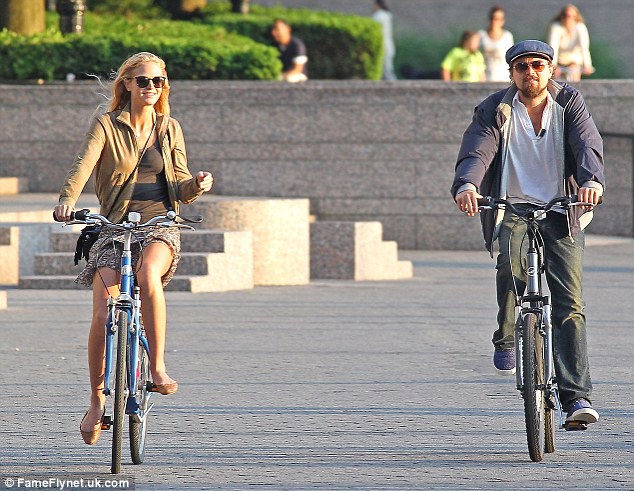 And in case any of you supermodels are interested in applying, here's a run down of the fine pieces of arm candy Leo has dated in the past and that he will obviously require to measure up to against before you send in your application. Good luck…
From 2001 to 2005 he went out with Gisele Bundchen and he dated Israeli-born model Bar Refaeli from 2006 until splitting in early 2011. From there he went out with Blake Lively and a bunch of other part time eye candy pieces until he gave Erin a trial lap before sending her too out to pasture.
above image found here
It's time to meet Leonardo DiCaprio's latest model fling: Madalina Ghenea.
Leonardo DiCaprio would like to introduce you to his new hawt bixch- Aussie model, Alyce Crawford.
Blake Lively and Leonardo DiCarprio would like to announce that their love charade is finally over.