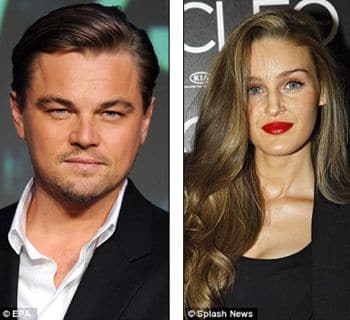 Leo will always prefer leggy blondes and the occasional model/actress.
Ahh kids, if only you and I could also be movie matinee idols and score all the hawt possums trekking the sidewalks looking for delectable morsels. That said it seems our hero Leo has already jumped ship after reports he was dumped by A B grade chanteuse Blake Lively.
dailymail.co.uk: Just days after splitting from Gossip Girl actress Blake Lively, the Titanic actor has been linked to stunning Australian model Alyce Crawford.
DiCaprio, who has been staying in Sydney while filming The Great Gatsby, is said to have had regular visits from 21-year-old Crawford, a former Australia's Next Top Model contestant, at his hotel.
Kids I have to admit right about now, me and the chipmunks Fyodor and Mazeltov are rejoicing and have gone back to putting our moonshine recipe of commiseration and self deprecation back in a locked cupboard. There was a while, the whole 11 minutes that we were worried whether our Leo would find a new thing to call his love shack.
An insider told Australia's Daily Telegraph newspaper: 'It's been going on about two weeks. He texts her when he wants to see her and they hook up a few times a week.
'They've mostly been meeting up during the week. He does other things on weekends.
'She's been going to his hotel to visit but he is too smart to be seen with her in public.'
Two weeks already! Leo you sly dog! But just between you, me and the chipmunks Leo how do you always manage to score the hawt bixches? Is it your charm, your sex appeal, your vast bank account or the quivering look you give women on the street that dare look you back in the eye?
One day when I give up my day job as a media whore junkie and lover of imaginable friends (hush Fyodor and Mazeltov I will always love you!) I too will dare flex my sex appeal at some discriminating hawt bixch pounding the pavement of upwardly mobile love.
Blake Lively and Leonardo DiCarprio would like to announce that their love charade is finally over.»
It's time to gawk at naked pictures of Blake Lively.
SECOND SET OF NUDE BLAKE LIVELY PHOTOS TURN UP- WHO'S REALLY RESPONSIBLE?
SUPER MODEL BAR RAFAELI, EX GIRLFRIEND OF LEONARDO DI CAPRIO WANTS TO SHOW YOU HER NEW BIKINI PICS.
Leonardo Di Caprio wants to get laid soon.