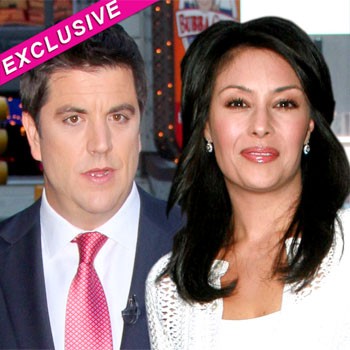 News anchor Liz Cho in the midst of nasty divorce with hubby Evan Gottlieb. Said to now be dating GMA's Josh Elliot….
Josh Elliot is quietly banging Liz Cho whilst she wrestles with an awkward divorce…
It seems being a hawt bixch comes with its own up and downs. On the upside there's all that sex appeal that allows one to nab princesses that perhaps one would normally be challenged to nab but on the flip being a hawt bixch also comes with having to listen to back and forth rumors of what makes you tick, and when we say tick we're talking about you being a high maintenance man whore with female trust issues.
Thus starts Josh Elliot's morning inner dialogue with his mind as he slips out of Liz Cho's house in the dead of night on his way to his job as ABC anchorman.
Of course what makes the news about this two even more interesting is how their love fest is suppose to be a secret except that is to all the neighbors who keep winking at Josh as he slivers out of Liz's bedroom. Not that Liz's soon to be ex husband, Evan Gottlieb is chaffing too much at the collar…
But who it also seems is chaffing at the collar is Liz herself who's not sure where Josh's ego is taking this shit.
Tells a source to radaronline: "But he is not committing to her. She's told people that she hopes it goes somewhere but he is screwing her over too. It's been going on for at least three or four months."
But that trepidation on Josh's part may have something to do with how he actually gets on with women.
Continues the source:
"Josh is extremely insecure and needs constant validation from everyone around him about how wonderful he is and what a great job he is doing. Josh doesn't get along with Lara Spencer at all, and the two have had multiple fights over trivial issues about how stories are covered," a GMA insider told Radar."
Asked to reflect on the above assertions an ABC spokesperson has offered that they don't like to comment on the personal lives of their anchors. Which is probably a good thing cause Josh wouldn't never be able to look at you straight in the eye when you wake up in the morning and stare his moist wet eyes seeping with Liz's love juices in the background as he spins his morning charm….