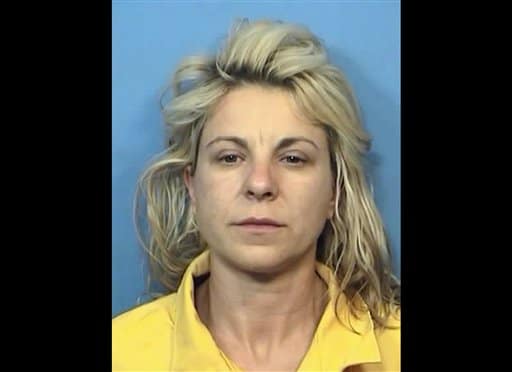 Elzbieta M Plackowska said to be on suicide watch has today been charged with the murder of her 7 year old son Justin and a 5 year old girl in her care Olivia Dwarakowski after ordering the pair to their knees to pray before proceeding to stab them more than 100 times.
The murders said to have occurred this past Tuesday evening in Mrs Plackowska's suburban Naperville, Illinois house are believed by  prosecutors to have occurred as a result of fighting between by Mrs Plackowska and her husband who felt unappreciated as a babysitter which resulted in her murdering the children in a fit of rage. The murders are known to have occurred in the evening just before the children were meant to go to bed.
At the time of the murders Ms Plackowska was the only adult in the house and it is thought the murders may have been instigated in an attempt to spite her husband with whom Ms Plackowska was having marriage troubles with.
Having regaled the children for jumping up and down one of the beds, Mrs Plackowska told the children they had evil in them and to get on their knees and prey so as to release the evil spirits inside them. From there it is said Mrs Plackowska then took a kitchen knife and proceeded to stab the children, stabbing her son Justin more than 100 times and the young girl Olivia 50 times.
Said DuPage County State Attorney Robert Berlin to the court: 'She told Justin he was going to heaven tonight as she repeatedly stabbed him,' 
Her son it is said then begged his mother to stop and even told her he loved her.
Asserted Berlin: 'Plackowska said that she was determined to do something that 'would hurt him the way she hurt in the relationship.'
Continued Berlin: 'She stated she was angry with her husband because he was gone most days as an over-the-road trucker," 
Having realized the enormity of what she had done, the baby sitter then frantically started calling a local church leaving numerous messages and even drove there before leaving.
From there she went to a friend's house, her body covered entirely in blood claiming someone had robbed her which led to the friend growing suspicious as Mrs Plackowska kept changing the details and her eventually calling the police.
Whilst Ms Plackowska was at her friends house, Marta Dworakowski, a nurse and the mother of five year old Olivia Dwarakowski called the police upon returning to Plackowska's house and not finding her there and unable to get in the house.
Eventually circa 10pm police were able to get into the house where they made the grisly discovery of the deceased children inside the family house whose hallways and foyers were smattered with blood. News agencies have also reported that along with the slashed children, the family's two dogs has been also stabbed to death as well.
Upon being interviewed by authorities Mrs Plackowska offered a variety of stories, including one which involved a stalker breaking in and even attempting to slash her own wrists. Eventually she relented and admitted she had stabbed the children and the family dogs.
Reiterates the UK's dailymail: She told them that she had been fighting with her husband Artur, a truck driver, about his work schedule and felt taken advantage of as a babysitter. The pair has a college age son as well who has not been named.
Sources told the Daily Herald that Plackowska had been stressed for several days following the death of her father and she was anxious to return to Poland, a decision her husband objected to.
Olivia was a kindergartner from Brookdale Elementary School and Justin attended Scott School in Naperville District 203.
The news comes as quite a shock to the Naperville community, especially given the case of a nanny in New York who killed two of the three children she was taking care of before attempting to take her own life.
Ironically part of  Mrs Plackowska's stated grief was her displeasure of having become some sort of bag lady entrusted to take care of a house which in her mind long ceased to be the house that she wanted to live in, confirmed even by the long consistent absence of her husband (who may or may not have sensed something was amiss with his wife and perhaps precipitated his often long extended absences) which led her to in the end choosing to undermine the existence she and her husband had probably worked so hard to create. An existence that suddenly no longer mattered, exemplified by her killing two innocent children and strangely the family dogs who may have mattered more to the husband than she felt she mattered to him….
At present it is understood that Mr and Mrs Plackowski also have a college age son whose name has not been publicly released.