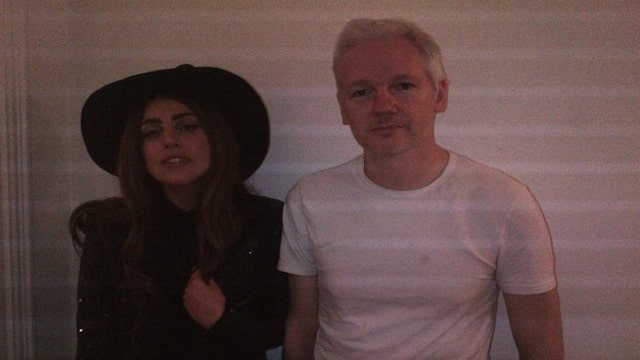 Either Julian Assangehas a taste for Lady Gaga's music, or the fact he simply couldn't pass up having a photo of the two of them blow up across the world may be one of the reasons why the renegade journalist who is being held on contempt charges by the UK government may have agreed to meet with Lady Gaga. Or it could simply be the case that Lady Gaga wanted to avoid the awkward controversy of her throwing up over the weekend whilst her lip singing at the same time in concert. Hardly the right look for a pop star (what is it with all these acts that lip sing on stage anyway?).
Either way the atlantic is reporting the two did meet, not that necessarily all that much was said and judging by the look on Julian Assange's face he was probably thinking to himself 'Fuck now my plight has been turned into a meat hook side show starring my extradited ass to Sweden and needless to say of course the USA where my ass will burn in hell for shoving it to them Yanks and of course now Lady Gaga who is using my sorry ass as tenderloins for her own nonsense agenda. Well at least I aged well in my white tank top that matches my white hair these days….'
As an aside the dailybeast reports Lady Gaga was the first person to wear Hedi Slimane's debut spring 2013 collection for Saint Laurent — albeit to a very unusual place. The pop star wore a complete head-to-toe look (complete with oversized hat). Which as you can see matched terribly well against Julian Assange's 'I'm going broke ass look white t shirt look….'
Anyone for tea and cupcakes?