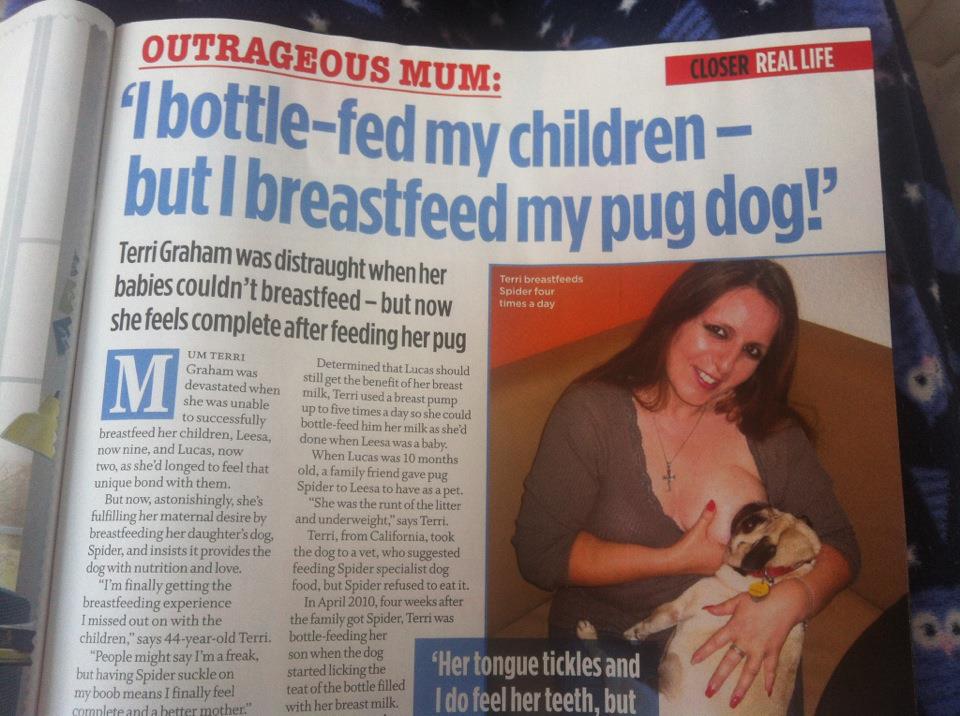 Terri Graham is finally the hawt bixch mother she always craved to be.
Terri Graham a mother of two unfortunately wasn't able to breastfeed her two children when she first had them but that has all changed as she has now taken to breast feeding her 9 year old daughters pug dog called Spider.
In an interview with UK tabloid Closer (yes that should in of itself be a warning right there kids) Graham reckons that although some might consider her a freak (not me, I was breast fed by a pack of wild wallabies in the outback of Australia) she insists breastfeeding the dog nourishes it as well as having the benefit of making her feel like a better mom.
"People may say I'm a freak, but having Spider suck on my boob means I finally feel complete and a better mother. Her tongue tickles and I do feel her teeth, but she latches on in a way that they don't hurt me. I breastfeed Spider in front of the kids and they think it's amazing."
Graham, who is from California, claimed that the dog developed a taste for breast milk in 2010 after licking the nipple of a bottle she had pumped for her then-newborn son. She says she has breastfed the dog for about 2 years.
A psychologist interviewed for the magazine piece suggested that Graham seek therapy, but stranger incidents involving canines have occurred in the British Isles.
Of course someone might want to whisper in Terri's ear that at 2 years old her little girl's pug hardly registers as a pup anymore and in dog years is just shy of its 24th adult human birthday equivalent, but why deprive Spider of all that good kinky shit?
via  Reddit