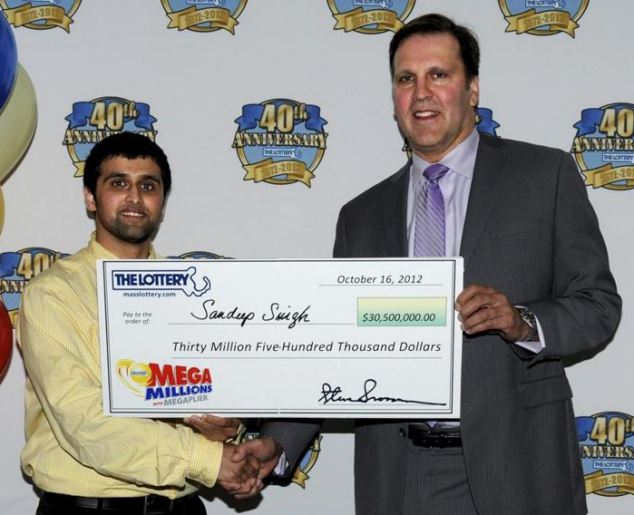 Will she now come crawling back?
Sandeep Singh a 22 year old man from Hyannis, Cape Cod forced to work two jobs just to get by and recently dumped by his girlfriend is having the last laugh after winning $30 million on the lottery this past week.
Since winning the windfall (Mr Sing has elected to take a lump sum payment which after taxes still leaves him $16 million) Mr Sing will now not have to work at Best Buy and Citizen bank and will instead return to college.
At the time of his winnings, Mr Sing also revealed that he had recently been dumped by his girlfriend, although stopped short of offering a reason as to why that may have been the case. Nevertheless he offered the following:
'She broke up with me. But right now, I'm not really worried about it. I was heartbroken at first, but now I am getting over it.'
Mr Singh plans to use to the money to pay his mother's mortgage and fund charity work.
He has already given his notice at work – and jokes that he plans to spend the next two weeks on sick leave.
"My dad was around and then he passed away my freshman year of high school, so that's when I really started helping out," he said. "My mom needs the help and my family could use it, so God definitely helped us out at the right time."
Let's hope Mr Sing comes across a new love that will afford him better luck going forward although one does wonder whether how much his new found fortunes will help him find the right woman, not that there will necessarily be a shortage of women out there who might perk up when they find out he is a newly minted multi millionaire, should he wish to disclose that….