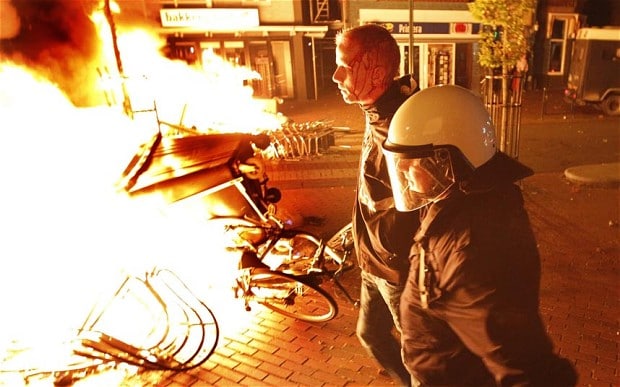 A 16 year old girl from the town of Haren, the Netherlands (115 miles north of Amsterdam) who had sent a birthday party invitation meant for her friends but inadvertently was shared amongst some 30 000 individuals has led to riots in the girl's town.
The hubris first occurred after the girl who had intended to celebrate her upcoming 16th birthday amongst friends but had failed to set her invitation to 'private.'
With talk of the party going viral on Facebook, it had by now been labelled 'Project X Haren' revelers had been anticipating descending on the town of Haren to partake in the festivities. Of course one wonders what inspired a collective of up to 30 000 individuals to see fit to attend a 16 year old girl's birthday party? One also has to wonder if the party was on some level a metaphor of some degree of discord in the cultural landscape or just disengaged individuals feeding off a viral theme or simply the release of pent up hostility at the hands of a viral mechanism.
Despite the party now being cancelled and police notified, 3000 revelers nevertheless attempted to make their way to the girl's house which led to confrontation with stationed police who had been placed to ward off reveler's from the girl's street.
Reports the bbc: When trouble began, officers found themselves being pelted with bottles and stones, as well as flower pots even bicycles, the Dutch news agency ANP reports.
At least six people were hurt and 20 arrests were made as rioters vandalised and looted shops, setting a car on fire and damaging street signs and lamp-posts, according to Reuters news agency.
The incident left up to 34 individuals arrested and according to one Dutch journalist, Martijn van der Zande, the whole town littered with debris:
'The whole village is littered with bottles and cans, street furniture, bikes and fences have been overturned.'
Offered a local: 'It was all done by a group of nutcases. I just don't understand it.'
Said a local police officer: 'The trouble was not caused by school children but 'organized' troublemakers.'
For his part, the town's mayor Rob Bats had this to say:  "They were very violent and well-prepared and deliberately sought confrontation."
To date some have placed the blame on Dutch media for feeding reveler's anticipations and for publicizing the upcoming event.
Revellers could be seen wearing T-shirts marked "Project X Haren" after Project X – a film released earlier this year about a party which grows out of control.
Such T-shirts had been selling on the internet for 23 euros (£18; $30) apiece. Some featured a crude logo of a man on all fours drinking from a bottle, AFP notes.
A new Facebook page has since been created called "Project Clean-X Haren" to clear up after Friday night's disturbances. It had more than 17,000 "likes" as of Saturday morning.
Let's hope that the birthday girl was one of the individuals who saw the banality and humor of the incident and also liked the event, even if it is understood she chose to be nowhere near her house last night as revelers descended. So much for sweet 16's…
Then there were these comments which caught my eye as well:
The clean up is a good idea but the problem is that the idiots who made the mess dont care and will simply be watching innocent people not involved who want a clean town do all the work while they sleep off thier hang overs, laughing at how "vet" the party was.
It's the same in Amsterdam. It's a generation thing. They were promised just about everything in their future and now their parents spoil them because they feel guilty. Not for nothing, in the south, alert parents send their kids to Belgian schools where severity is part of the game. For what the police is concerned, well the new generation of police agents is pretty sinister.
A large part of the costs should be placed on the stupid girl who advertised her party, it is well-documented that these facebook event calls end up like this.