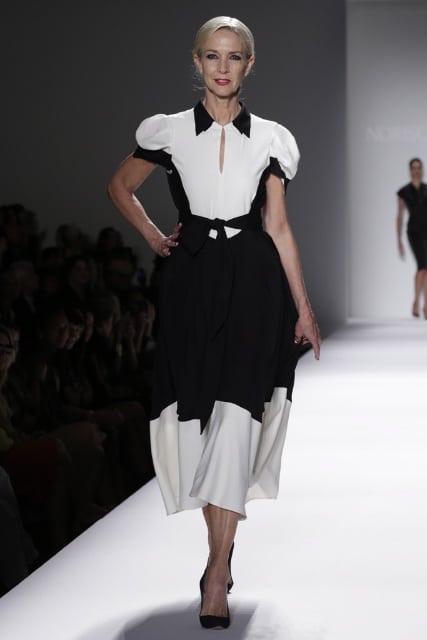 Tight pencil pants in neutral colors, running up against the legs, whose roots a.k.a. 'feet' are mustard-suede studded, like top-hat sparklers.  Oh', what a coincidence! The Hat- shoe accessories match up, and deliberately spell out: S-p-a-r-k-l-e-r.  S*I*Z*Z*L*E*, and R(O)[A]R. 9am at Lincoln Center this week, I cannot deny that I have felt blessed with eye elixirs—all day long.
Cross-topped tanks, made with elegant collars that really spelled out the facial structure and lips, Ferrari drives the car that spells her magnificently original name. Crimson lips stand out against propellers or ribbon-wear hanging down from the rear-views of French tea-cupped flying saucer miniature top hats.
Bodice-hugging satin, open-backed or button-adorned female 'party' blazers appeal to the sexuality-driven or fashion-thirsty female. Simple in color and pattern, the shapeliness of each ensemble accentuates curves, breasts, cleavage and erectile leg structure.
Hairdos, slick-backed up into buns, too, reflect an architecturally inclined designer. Unpretentious, yet Mediterranean-inspired, her designs leave it up to the person, spirit and strength to shape and love her malleable, ultra feminine designs.
Strong women were consequently selected to fill them, and evoked film stars and icons: Marilyn Monroe and Rita Hayworth. Celebrated models of earlier generations, Carmen Dell'Orefice (age 81), Carol Alt (51), Alva Chinn (57), and Karen Bjornson (58) enlivened the stream of rigid, stressed-out elementary-seeming models. Poses, animation and extreme face were given against backdrops or incredible, caramel-colored gowns, while less-revealing ensembles created mystery.
Ribbon belts, or flared pea blazers, accompanied by columns of buttons, or tailored lines or panels—
All showed themselves, against a sheath of oversized dress pockets, capes, fractal patterning—corsets against light cotton poof skirts. Necklines, hands (with red fingernails), v-neck lines and ankle bones were extra contoured, by symmetrically lit satins and silks overcoats, belted trenches, and light Theory-evoking summer shorts.
The 'French Maid' costume made a seemingly appropriate comeback, in a fashion that was classic, upscale yet concealed. Peggy Bundy bulk fashion belts even seemed to strike my attentions, as the older classics over-exaggerated their run-down. Whether their free-spirited, near-rebellious and almost disruptive gestures were contrived and demanded of them, by set managers, one will never tell.
Even the wedding gown pronounced something of an Edward Scissors Hands Gothic romance, typically Venetian, of Andalusia or South France and Arabian. Headpiece, oversized comfort pockets, and a fit that never failed to encrypt all pelvic activity, Ferrari's textiles, angular seams, and history all generate Royalty of a modern Era.