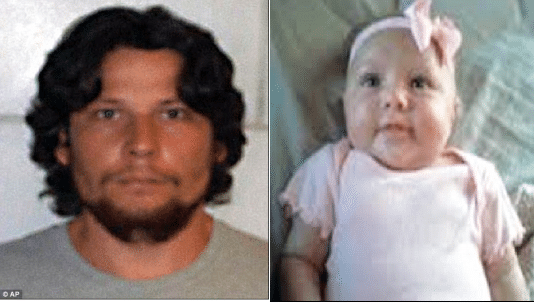 Steven Deuman, 26 was convicted Wednesday week ago for the first degree murder and aggravated sexual assault of his fifteen month old daughter in Michigan. He is to now set to serve a mandatory life sentence in prison without parole.
huffpo: Deuman's infant daughter, Evelynne Deuman, was found dead with a condom in her mouth on Aug. 12, 2011. The death occurred at Deuman's home on Grand Traverse Band of Ottawa and Chippewa Indian Reservation in northern Michigan.
Deuman had called the child's mother to say that he had left their daughter on the bed while stepped outside to smoke, but returned to find the girl on the floor, not breathing.
The prosecution argued that Deuman's story did not make sense, as the girl was too young to crawl or even roll.
"Even if [she did end up on the floor," said Assistant U.S. Attorney Phil Green, "how was she going to suck that condom up?"
Green called the case "as heinous as it gets."
Despite assertions from Deuman that the baby girl fell on the floor an autopsy failed to correspond to Mr Deuman's assertion but rather showed the girl had died of asphyxiation.
Interestingly, Ljubisa Jovan Dragovic, a forensic pathologist hired by the defense, testified that this did not prove Deuman raped or killed his daughter, according to Michigan Live.
"Anything's possible," Dragovic said in regards to the rape allegations, "but I have difficulty envisioning that."
Perhaps what most people really had more trouble envisioning is how a father could even contemplate procuring the cruel and perverse act on his very own daughter and what allowed him to cross this taboo line that is clearly understood between most parents and their children.
Offered a variety of commentators:
Just when you think you've heard the most disgusting thing of which a human is capable,this guy comes along sinking depravity to a new low…I hope he finds himself victim to a similar crime in prison.
I give up……I just suffered an aneurysm trying to wrap my mind around this until I finally realized that would be impossible.
Which in all likelihood probably explains Deuman's denial in ever having actually undertaken this dastardly deed. One can only speculate where such pervesion emanated from, his childhood, disgust for the child, his own childhood or just simply a morbid curiosity to see how much pain and repression he could induce on a defenseless human being. Ironically a state of mind he will be most likely be forced to endure for the balance of his life in jail….
The case was tried as a federal case as it occurred on tribal land.