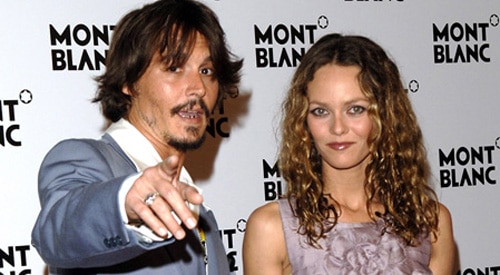 Johnny Depp has given his blessing as Vanessa Paradis, his ex girlfriend is being courted by French millionaire Guy-David Gharbi.
The new couple are said to have met on a flight from Los Angeles to Paris in May and have since begun spending time together this summer.
For his part, Guy is supposedly a big deal in France, as the owner of Usinedeco, which is equivalent to the French Ikea.
Respecting her recent but painful split with ex Johnny Depp, Guy-David has supposedly revealed to Paradis the depth of his feelings for her whilst at the same time telling her he's happy to give her all the time she needs.
Offered an undisclosed source via the sun: "They've been going for quiet romantic dinners in Paris and just enjoying each other and having fun. It's been a very healing thing for her.
"Guy-David's put a smile back on Vanessa's face, she looks younger and is even singing and writing songs again.
"Which after two years of heartache and turmoil for both of them has really warmed Johnny's heart.
"Johnny has given Vanessa full access to the house in Plan de La Tour in the south of France and told her it will always be her home too.
"She stayed there with Guy-David the week before last after a family trip on the yacht Vajoliroja in Saint-Tropez.
"Johnny's a good and emotionally evolved guy and all he wants for her now is for her to be happy.
"Things are going well for them."
With Paradis at 40 years old and her new lover a scant 27 years old it will be of course interesting to see how the relationship's dynamics unfold.
Ironically, Johnny Depp's relationship with Amber Heard which catapulted the end of the former couple's relationship has now said to have fizzled.