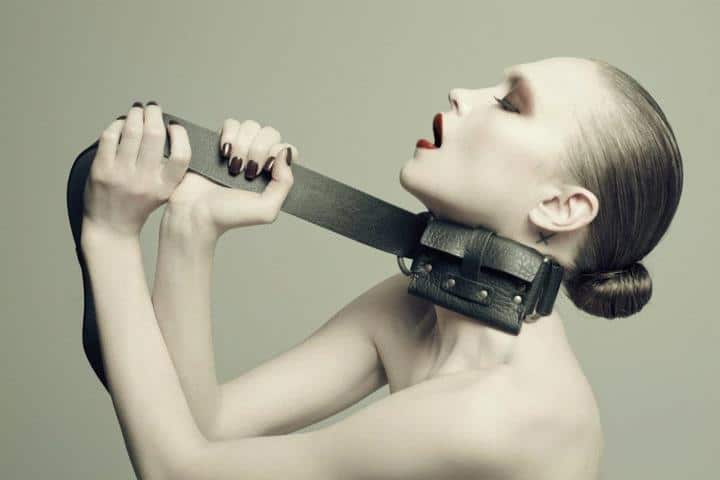 Euphoric, enthralled, edgy and overwhelmed by her miraculous melodiousness, the gift of song means EVERYTHING to the inimitable IVY LEVAN.
IVY LEVAN is a noire-diva goddess, known as much for her prettily pale beauty, her impossibly perfect silhouette, her butterflies, her kerfuffle, her tears and tantrums as she is for being one of the beyond-talented singers the Left Coast has to offer. Currently riding high on the crest of her newly debuted (and rather off-the-cuff) video (see below) "C.R.E.A.M," she secured a double-whammy by garnering the attention of more than one big-hitting recording studio. Tender as a butterfly and tough as a nail she is synonymous with glamour, goth, rawness, punk-rock, puppies, clothes, stiletto heels, avant-garde film, sex, seduction, life and love, ever since she warbled her way to Los Angeles via numerous nerve-wracking detours.
Growing-up in a fragile, semi-creative household in Oklahoma and later in Arkansas, Ivy embraced music from a tender age. Her mom was a kind of new age beatnik and her dad was a Rockabilly Hall of Famer who made himself indefinitely scarce from the time she was about 1. Reared mostly by her mom thereafter, Ivy started singing Gospel (go figure!) and doing talent shows and beauty pageants right through her rebellious, chain-smoking teens. Then in an angsty pivot, she dropped-out of high school and ran until she could run no more all the way to Tenseltown's wide-open field of dreams.
Fast forward a few years and with numerous modeling campaigns/cameos under her belt, Ivy is making a name for herself in the rough-and-tumble music scene with her witty, sexy, stylish persona and her intoxicating voice.  Beautiful, funny and so stylish she could ruin your retinas, the 24 year-old model-cum-artist is about to go stratospheric. Achieving massive commercial and critical success by expertly straddling both mainstream and avant-garde genres, she's on the ride of her life. Possessed of a subversive, Björk meets Amy Winehouse kind of zeal, Ivy is seen as a gritty-gorgeous performer whose hollow-point bullet penetration – especially in her incendiary vixen guise – is entertainment as seducing as that of any other femme fatale who comes to mind.
Raw and rare, Ivy Levan's galloping, unfettered talent and breakneck commitment to her art know no boundaries!
And go here to visit Ivy's tumblr page
"C.R.E.A.M" IVY LEVAN from Daniel Carberry on Vimeo.