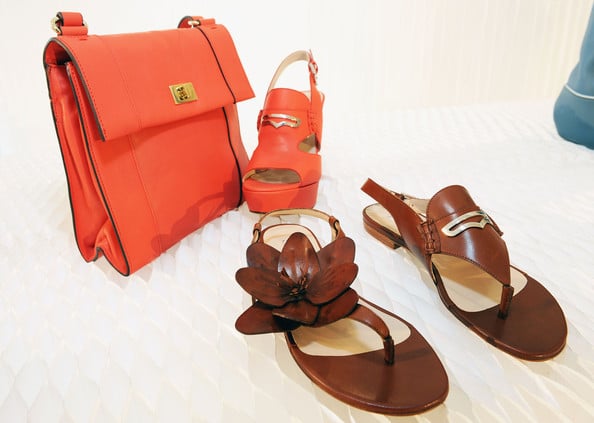 Yet another stellar presentation at Jack Studios, in Chelsea…
Owned by Renzo Rossetti's three sons, Fratelli Rossetti began in 1953 by brothers Renato and Renzo in Parabagio, Italy. Made by artisans in their own Italy-based factory, each pair of shoes takes four days to construct and assemble, stitch, and stain. Remarkable handbags too, grace Fratelli Rossetti's more recent collections, which continue on the legacy of endorsing top quality Italian leather.
Inspired by their customers, who privilege quality and simplicity to pretension or designer labels, their Spring 2013 taste attract the more androgynous risky female or male. While a few women's shoes come in 5 ½ high heels or platform, most of them are flirtatious 'flat' semblances of the company's male's Western Mediterranean-geared trends.
Styled in bright, lightweight trends in line with the spring/summer 2013 trends, coral, lemon and kale hued hand-sewn leather loafers accompany brown, blue, and beige leather linings and soles. Linings, footpads, and rubber-enforced heels vary in color, and serve to accentuate the intricate weavings noted on several other pairs.
Suede teal, cream and brown loafers and shiny oxfords with brown wooden padded undercuts overlay a layer of navy or sky blue for the simple yet fashionable male. Elegant tassels give other versions of a mustached appeal over moccasins.
Seemingly preppy, on yet another elevated ivory cylinder hoisted in panoramic view of all of the West River, downtown Manhattan, and Jersey, stood an extraordinary blend of feminine- flat sandals and platforms. Red, plum, white bodies with sky blue or coral slips or distinctly sectioned-off heel, toe or ankle arenas and floral or steel accessory, these shoes will never make a woman feel masculine or boring in 'flats'.
Finally, generosity encumbers fruits of this affordable line, which definitely lasts a lifetime. The virtue was further concreted, today as 'Chris'—a F.R. representative came over to me and asked which two pairs of shoes I'd like sent to me, for 'free'. "Oh, but I'm a size 11," I said embarrassed. "Our shoes run large, our 11 will fit you, he assured me; ~). Thank you, & APPLAUSE à Fratelli Rossetti.
Buy shoes, clutches or handbags that all last a real lifetime in NYC, at 625 Madison Avenue: www.fratellirossetti.com/en/Negozi,