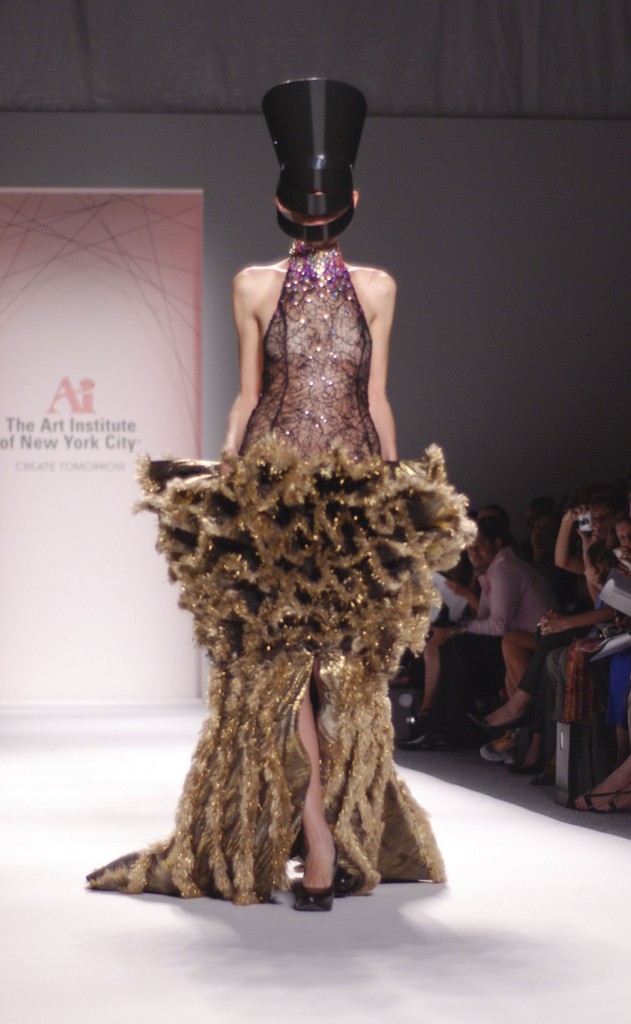 "A student fashion show?" one might groan, but as a student in design myself, I have a soft spot for all of us out there pursuing this dream. The New York division of the Art Institute schools showcased several of their best graduating at Lincoln Center, in a show titled "Between the Lines".
Each student was able to show about five to ten looks, representing their own point-of-view and style. I almost wish there was some type of unifying theme or color scheme, though, because the styles jarred from one mini collection to the next—along with the music (which seemed to go from fast-paced to a slower tune at the most unusual of times). This made it difficult to really get into any state-of-mind about what you were seeing, because after every five looks, the style and theme would seem to change dramatically.
Amongst the chaos of this all though, there were some bright spots in the show. (Do uneven hemlines and bunching bodices even need to be noted at a student show?)
Graduate Isaiah Isaac seemed to show a very relaxed, yet hip look, while mixing a lot of textiles within his five-piece collection. Everything looked cohesive and showcased his point-of-view quite well.
Luisina Victoria probably had my favorite collection of the night. Her designs were clean and well made, with great candy-colors that really popped on the runway and work very well for the spring. The pieces were heavily embellished with colorful beading as well– all done beautifully.
I could really tell that every single person put in a lot of effort into what they created, though, and it will be interesting to see who from this group emerges onto their own runway in the future.
More images continue next page.