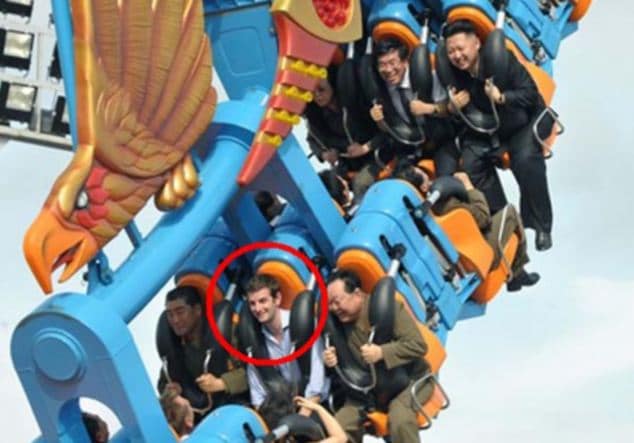 He's rarely seen with Westerners, but a photo of North Korean leader Kim Jong Un riding a rollercoaster (yes they exist in North Korea just in case you thought otherwise) with a grinning white man has been having many commentators guessing as to the identity of the man. And now it seems the identity had been discovered.
According to Mother Jones magazine  the identity of the grinning Westerner is none other than Barnaby Jones, a British junior diplomat (what Kim Jong Un hangs out with junior ministers?). It is said that Jones works for the British embassy in Pyongyang.
And how did Barnaby Jones come to be on the roller coast ride anyway?
'Pyongyang's diplomatic community was invited to the opening of the Rungna People's Pleasure Ground.
'This included the Chargé d'Affaires of the British Embassy, who accepted the invitation to attend.
'While this was an unusual event, it is vital that we actively engage with the North Korean administration since we work closely with them on a number of humanitarian, cultural and education projects which benefit the people of North Korea.'
Humanitarian, cultural and education projects? Is this to imply there might be a loosening of diplomatic relations between a secretive North Korea and the West?
Says a source:
'Normally pictures of the leader with a foreigner would be carefully staged.'
'I've never seen a picture of his father or grandfather ride an amusement park ride,' he said. 'Then to be in the next car over with a youngish looking foreigner seems to convey more of a human image.'
Hmm. Maybe in the not too distance future we can expect to see a picture of North Korea's leader, Kim Jong-Un high fiving it on the cover of people magazine. My bet it will be with an A list celebrity but then again it would be fairly daring if Kim chose to be slumming it with someone like Lady Gaga or Lindsay Lohan. Can it all be too far in the offing….?
Dictator Kim Jong-un rekindles relationship with mystery pop star. Is she now his wife?