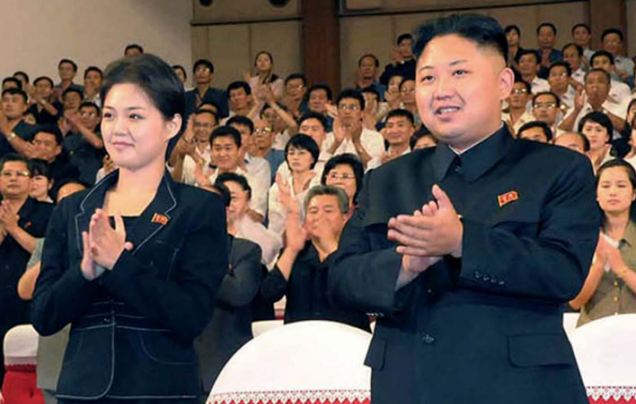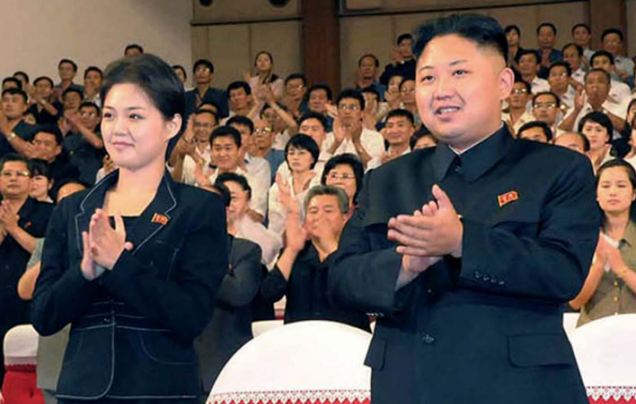 It seems North Korea's Dictator, Kim Jong-un has an eye for pretty ladies…Welcome to the Republic of North Bizarre….
Seen in a recent photo accompanied by a 'mystery' woman at a state engagement, intelligence officials have begun wondering who it could be that has suddenly become a regular fixture at Kim Jong-un's side. Speculation has run the gamut that she is the daughter of one of his father's mistresses, a former lover of the young dictator, a sister or even now his wife?
At present it is believed that the svelte woman goes by the name of Hyon Song-wol and that she used to front a pop band (do such things exist in North Korea?) in the 2000's called Bochonbo Electronic Music Band which to their credit were able to score some chart toppers,including, Excellent Horse-Like Lady, Footsteps of Soldiers, I Love Pyongyang, She is a Discharged Soldier and We are Troops of the Party.
But the story gets better. According to South Korean intelligence the pair are rumored to have become involved over a decade ago but were supposedly forced to stop seeing each other after Kim Jong-un's father Kim Jong-il intervened perhaps because she may have been married at the time to another man, an officer in the North Korean army. Their 'friendship' may have reignited at the time of the death of Kim Jong-un's father , Kim Jong-il in December.
Said a former intelligence official to South Korean journal, JoongAng:
The two have known each other since they were in their teens and rumours about the two having an affair have been circulating among Pyongyang's top elite.
Interestingly the woman's husband, (it is not clear if they are separated or not) nor the couple's child have been seen in public for some time, leading some to speculate even further.
Who may have answers includes Toshimitsu Shigemura, a professor and scholar who now believes the young woman may in fact be Kim Jong-un's wife and that the young dictator may aim to publicly introduce her to the masses once they have become acquainted with her familiar image.
In the interim North Korea media has made no effort to date to identify the young woman by Kim Jong-un's side. Time will tell if and what they disclose….assuming there's anything to disclose in the first place.
A misguided love story full of decadence and moral stupor or just another convoluted Hollywood type escapade designed to keep us Westerners entranced in the beguiling lifestyle of an aspiring media legend yet to be? Who can be sure…?