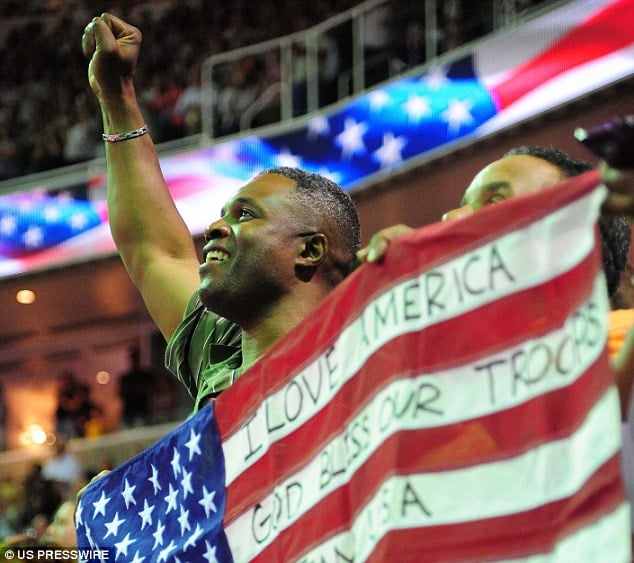 Gabby Douglas' dad a deadbeat? Media still can't resist portraying black men as deadbeat fathers. Arrested for child neglect…
Gabby Douglas the 16 year old American gymnast has certainly engrossed a nation with her stellar performances and with that comes the desire to find out more about her background and how she managed to reach this riveting pinnacle ( she did manage to win two gold medals).
That said, the media today has for some reason or another (we will explore that reason in depth ) has decided to join in a chorus to bludgeon her father as a deadbeat scoundrel who effectively abandoned his family. What makes such brow beating disconcerting is the subtle effect it has of once again portraying African American males as low life forms not to be trusted, effectively consigning them to the margins of society in a kind of caste system.
Reveals the nypost: LONDON — Olympic sweetheart Gabby Douglas slammed her Air Force dad as a deadbeat yesterday and blamed him for her doting mom's financial woes.
The gold-medal-winning gymnast said her father, Timothy Douglas, abandoned his family years ago, leaving her mother, Natalie Hawkins, struggling to support her and three older siblings.
"It was really hard for us growing up — my dad had left us, so he wasn't really in the picture anymore," Douglas, 16, said yesterday.
"So my mom had to front all these bills. My dad didn't really pay the child support. He was short [on money]. It was definitely hard on her part, and she had to take care of me and the rest of my siblings.''
Although not an alluring painting of her father, the gymnast hardly paints her father as some kind of deadbeat dad. If anything she reflects on the realities of her family situation and the sudden conundrum heaped on her and her family after her father's deployment in the US army. Nevertheless the nypost can not resist the urge to indict the father as a deadbeat of sorts whilst at the same time extorting that Gabby is slamming her father when in reality she is simply describing in a no nonsense way what she has had to contend with.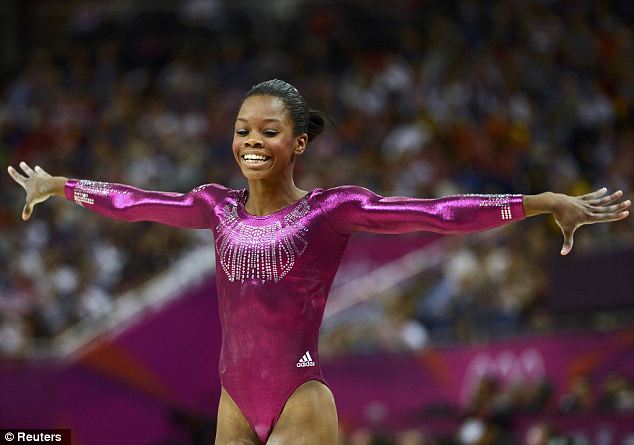 The dailymail (who also calls Gabby's dad a deadbeat) for its part goes on to describe the challenges faced by the family as Staff Sergeant Timothy Douglas (since when does the media call individuals risking their lives and serving as sergeants as deadbeats?) whilst he was deployed over a period of years abroad on active duty.
dailymail.co.uk: Staff Sgt. Douglas, who is in the process of being divorced by her mother, was first deployed when Gabby was just nine years old, leaving Ms Hawkins to raise her four children on her own.
He is a structural craftsman and a traditional Guardsman, meaning he serves one weekend a month and two weeks every year unless mobilised for duty.
He was deployed to Southwest Asia in 2003, 2006 and 2011, with each lasting about eight months. He is currently enrolled in college with an undecided major.
The MailOnline can reveal that the couple initially separated in on July 2, 2007, according to the divorce filings that Ms Hawkins submitted in October 2009.
The journal also identifies instances where a breakdown in divorce settlements left the family torn.
Hardly from running away from his responsibilities, Gabby's father did offer to pay expenses in her and sister's rearing on the condition that he also be offered joint custody of his children. Nathalie Hawkins, the children's mother declined and over the years the lack of common ground between her and her soon to be ex husband left the family disadvantaged.
In the divorce filings, the couple resolved an agreement for the children's college room, board and tuition, but Mr Douglas demanded joint custody and refused to offer Ms Hawkins any spousal support.
Ms Hawkins battled to raise the money to support her daughter's dreams and, in interviews, she identifies as a single mother. Earlier this year, with debts nearing $80,000, she filed for bankruptcy.
Her father's absence has haunted the teenager, who struggled to perform to the best of her abilities without her father by her side, and would often wake up with anxiety that he was at war in Iraq.
Although  Staff Sgt. Douglas was unable to see his daughter Gabby perform in the Olympics he did go and watch her during the trials earlier this year. Nonetheless the strains of competing and perhaps the family fricture that has existed all the while may have been a bit too much for the athlete who was not able yesterday to secure a gold medal in competition.
Reflected the gymnast:
'It took a lot of hard days in the gym and determination, passion and drive. Gold medals are made out of your sweat, blood and tears, and effort in the gym every day, and sacrificing a lot.'
It was strain that showed yesterday when Gabby stumbled during the uneven bars and finished in last place, but she has another chance for gold today when she takes part in the beam competition.
'Toward the end of the Olympics, you get physically tired and drained. And no matter how much rest you have, your body is tired,' she said. 'I made a little mistake, but I'm human.
'I'm going to go into the beam finals and try really hard to end on a good note.'
As for the media's portrayal of Gabby's dad as a deadbeat dad one does have to wonder why the quickness to lambast him? Or to put it another way, had he been a white American male would Timothy Douglas been portrayed in such a negative light? Then again should we really be surprised given the consistent efforts of the media in general to paint African American males as consistent losers, something that the global grind did little to challenge either, surprising given their Afro centric roots and reputation for challenging Afro centric notions….
Gabby Douglas insists you all stop worrying about her hair. Why all the fuss?
Gabby Douglas gold medal victory mired by NBC ad depicting a monkey doing gymnastics.
Olympic Gold Medalist gymnast Gabby Douglas' hair is deemed offensive.
Visit NBCNews.com for breaking news, world news, and news about the economy