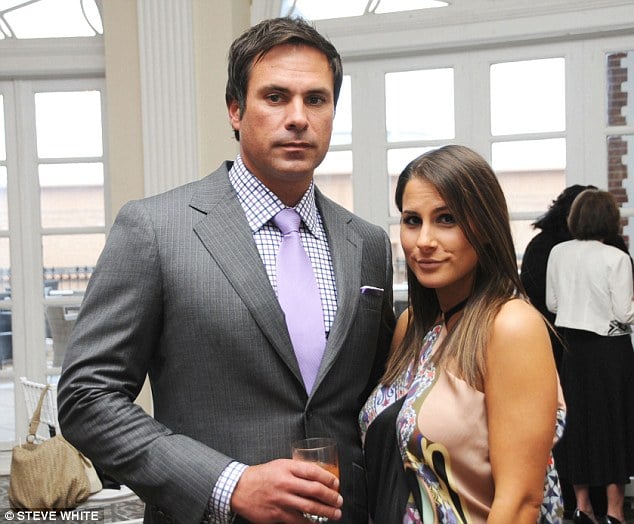 Scandal? What scandal? Ashely Dupre the one time call girl whose involvement with former NY governor Eliot Spitzer brought turmoil and humiliation to the high powered politician is now engaged and seven months pregnant with first child to asphalt heir Thomas 'TJ' Earle. How to go from salacious hooker to sweet doled ivory clad suburban mom to be….
The NY Post has revealed that one time high class hooker, 27 year old Ashley Dupre is set to now marry long time love, Thomas 'TJ' Earle now that he is divorced from his wife with whom he cheated on with Ms Dupre.
According to the Post, the former outspoken hooker has now morphed into a homely girl (can we really believe it) who opened her own lingerie and swimwear shop (naturally) in suburban Redbank, NJ of May, this year.
Initiating an affair with the asphalt heir shortly after the Spitzer debacle, Ms Dupre went on to write a column for the Post, as its 'agony aunt' (yes the irony is too palpable) in which she wrote about infidelity (once again the irony is too palpable), deceit and sexually dysfunctional relationships for over 2 and half years.
With respect to her upcoming marriage to Mr Earle, mr Earle's lawyer, Mitchell Ansell has confirmed that his client and ex wife Alisa have amicably divorced and are now on good terms. Interesting.
'They divorced amicably. She has moved on, and he has moved on. There's nothing scandalous. No one's running around. [Ashley] is pregnant, and [TJ and Ashley] are planning on getting married.'
'Everyone is looking forward to the future,' Ms Dupre told the Post.
Nevermind, at least Ms Dupre had her fair share of fame and notoriety and even got to some house cleaning as a NY Post columnist even if her marriage to Mr Earle was spawned out of adultery. Then again at least we can thank Ms Dupre for being the resident hussy that we all love to hate and spit at.
If only all engagements with high powered men and floozies on the side could be this amicable…
Today Redemption is spelled with Spit
Will the world survive now that Ashley Dupre is bearing it all on Playboy?
It's Official – Ashley Dupre Whore marries the NY Post.
Ex whore Dupre touches nerves of Manhattan pseudo whores…
Elliot Spitzer's whore goes on a 'rallying mission.'