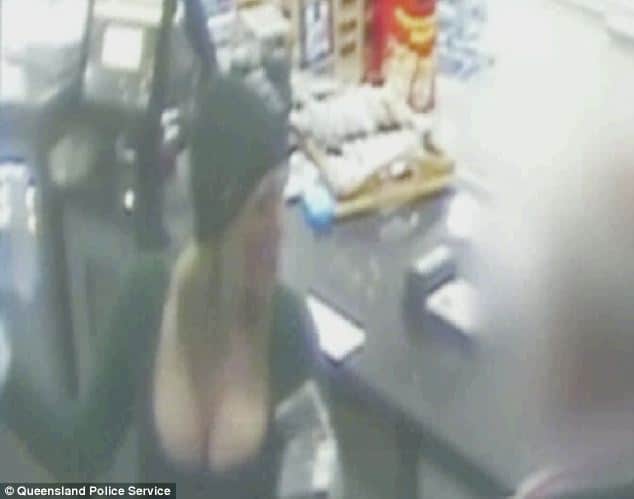 Australia's Buxom Bandit turns herself in. Felt guilty.
Aussie police release new Buxom Bandit video.
Are you the 'Buxom Bandit' local Aussie authorities are looking for?
Seems like Aussie authorities have a new bandit on their hands who is catching the imagination of locals. But who may not be too happy with the 'Buxom Bandit's' ascent in the fame stakes are Queensland cops who are keen to identify the curvaceous blonde before she manages to get a few more hold ups under her belt.
Using her ample breasts as a kind of diversion (yes folks some of us can't help ourselves) the Buxom Bandit is said to have committed a major faux pas with her failure to hide her face. But to her credit the Aussie Buxom Bandit did think to wear gloves so as to not leave fingerprints behind.
With her lush locks and very visible healthy tan, cops are keen to identify the woman behind the gas station hold up.
Holding a knife to the attendant it is said the buxom bandit made some serious threats before running off with some small loot into a waiting 4 wheel drive.
At present authorities are hoping with the myriad of clues left behind they'll soon be able to make an arrest. Of course who will get to conduct the body search is still up for discussion…