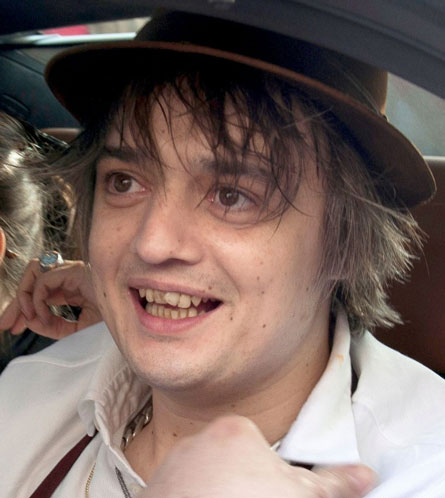 Nme has reported that our preferred resident crack head/dope headPete Doherty has been kicked out of one of the world's most exclusive rehab centers, the Cabin in Chiang Mai, Thailand for being a disruptive influence.
Said the programme's director, Alastair Mordey: 
"Pete was discharged today for therapeutic reasons. It is important to maintain the integrity of the treatment programme for the other clients to have a good chance of recovery. Pete understands this and therefore the reasons behind why we have asked him to leave."
Therapeutic reasons? Don't you love it when individuals in authority positions try using some dodgy diplomatic lingo to avoid telling you directly shit is real bad?
Continued Mordey:
"Although our parting with Pete is amicable, we are of course disappointed to see him leave. We hope some of the things he has learnt here will help him in the future and look forward to the day when Pete decides to consider recovery again."
Yes very elated disappointed.
The facility for those of you in need (better update my passport) costs a paltry 7200 pounds a month (circa $10USD) to attend and to date has only boasted a total of less than 12 patients to leave (also for amiable reasons one assumes) which Doherty has now managed to join the much prized club.
According to NME, the singer told the journal that he was planning on confining his ass in rehab back in April and that his ass has been in out of the rehab's revolving doors for the last decade following a series of misadventures (arrests). The singer is also famous for having once been involved with supermodel Kate Moss before even she snapped out of it.
According to reports Doherty had been scheduled to fly back to London yesterday on the 17th of July (do you think he made it?) where one assumes the bixch is looking for that one crack pipe he knew he should never throw away…
above image via dlisted