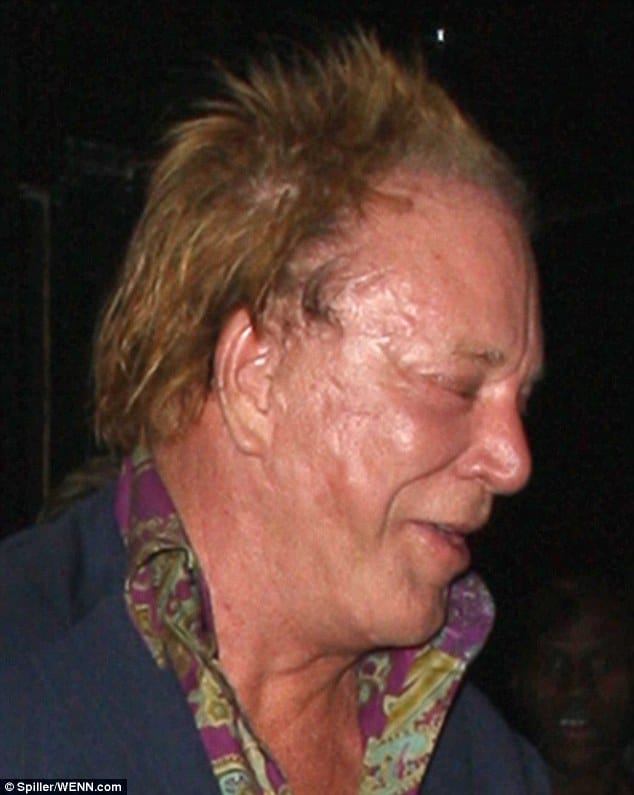 Either he has been back at it or they just take forever to heal or worse never, but Mickey Rourke came off looking worse for wear last night as evidence of plastic surgery scars took center stage as he hit London with co pals, David Haye and Joe Calzaghe.
Never been one to be shy to maintain his public image it is thought that the actor has invested in a series of plastic surgery ever since the late 1980's often with disastrous results. It's as if each new operation only makes the last one look that much better when neither ever was. But that's conceit for you, always trying to retain the look of unbridled youth with disastrous consequences.
Thought to be in the UK regarding his role in the upcoming Gareth Thomas biopic, the story of Welsh rugby and former celebrity big brother star, Rourke affected an air of nonchalance as the paparazzi vigorously started snapping away as he walked swapping a new hair do and quite the colorful shirt ensemble.
Speaking of his plastics surgery operations the actor has countered in the past:
'Most of it was to mend the mess of my face because of the boxing, but I went to the wrong guy to put my face back together.
'I had my nose broken twice. I had five operations on my nose and one on a smashed cheekbone.
'I had to have cartilage taken from my ear to rebuild my nose and a couple of operations to scrape out the cartilage because the scar tissue wasn't healing properly. 
'That was one of the most painful operations, but the worst was haemorrhoids.'
Never mind Mickey, we're sure you'll look the part in your next upcoming film part, even if the scars never eventually go away. Hawt bixch….
What happened to Mickey Rourke's face?