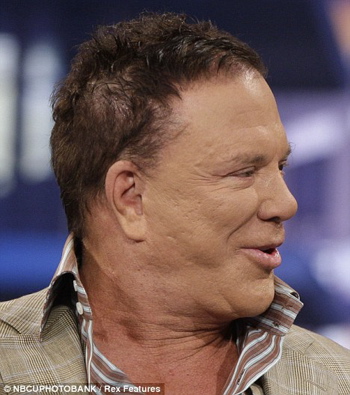 Have a good look at the picture above. Notice anything horrific about it? Keep looking. Never mind the plastic surgery scars or the forehead caving in on itself (please don't even mention the haircut that the barber from the Siberian gulag gang gave our hero) or even the little angels floating around snickering in disbelief. It's just a case of too much make up. Or maybe not enough make up…Daily Mail explains…
Daily Mail.Co.UK: Mickey Rourke has been looking like a new man of late.  Gone is the greasy long hair and dodgy clothes, replaced by sharp suits and a buzz cut.
The makeover is widely regarded as his girlfriend, model Anastasia Makarenko's doing.
But the Russian beauty was nowhere to be seen during Mickey's appearance on the Tonight Show with Jay Leno, and it showed… on Mickey's face.
Even as you read this censoring authorities have been fielding phone calls from scared mothers concerned about the paralyzing effects boy wonder's beauty has had on their innocent children. Even the children of Siberia are crying in their sleep.
The 57-year-old went overboard, even for television, with his foundation.
A close-up of the actor shows that someone had done a terrible blending job, giving his ears and neck a two-toned look.
The slap is clearly the wrong shade for Mickey's rather red complexion, and the overall look is a bit pancake.
Unaware of his faux pas, Mickey happily chatted with host Jay Leno about his new film The Expendables.
One day Mickey is going to wake up and buy a mirror and wonder if he was involved in a head on collision while he was asleep. The little angels will of course deny everything, so will his model girlfriend – Anastasia.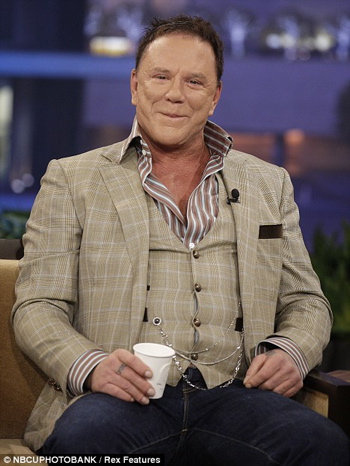 Mickey Rourke doesn't think too highly of most actors.