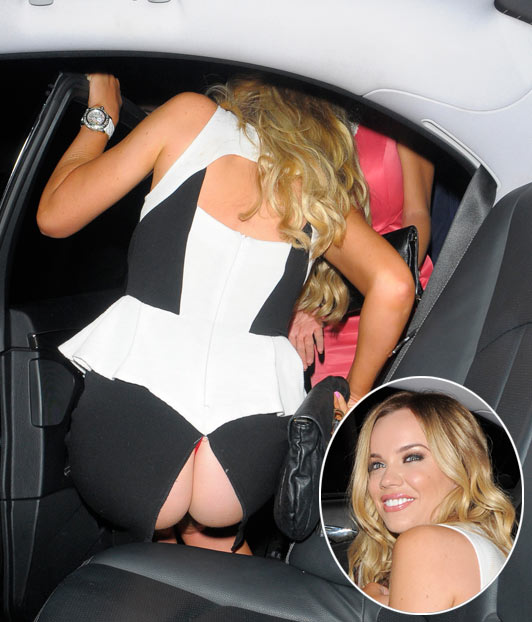 Have you had a well publicized wardrobe meltdown lately?
There's nothing more cringe worthy than watching a celebrity or worse a reality star (cause let's not forget they're not in the spotlight except for their flair for being a demand on the go media whore) whose best days are behind them trying to drum up interest with little or no success. Case in point former Towie reality star, Maria Fowler who this morning has once again found herself in the center of her favorite wet dream- the focal lens of panting paparazzi lens.
Thankfully for Maria who was conveniently out for dinner at London's Nobu with porn star Gemma Massey (kids this is the way it's done if you want to reignite your career- I swear) her dress had a sudden wardrobe meltdown (yes, can you believe it?) splitting at the sides and revealing poor Maria's exposed bottom. Of course Maria was then obliged to tweet the heck out of the image less you her die hard fan (don't deny it bixch). But instead of going home to change Maria tweeted that she now on the way to Stringfellows gentleman's club where surprisingly there were now paparazzi desperately waiting to take pics of Maria.
See how frustrated Maria was, tweeted our heroine :
"Grrr so annoyed my dress ripped last night. tried to style it out but failed. / Well I tried to dress demure and look what happens. Some things are just not meant to be." 
The moral of the lesson? You too can be a preferred media whore if you have a clever game plan before you step out in the public. Let's hope you have something equally appealing to reveal…