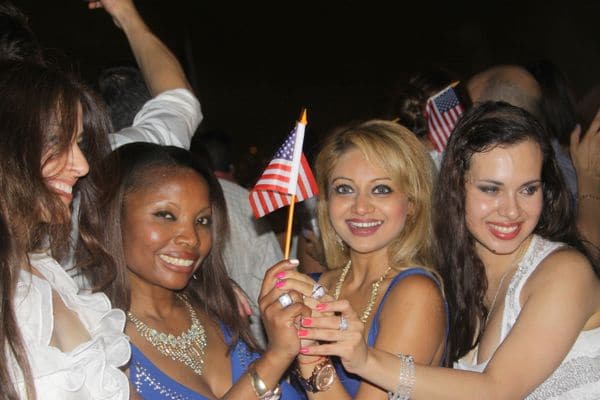 Last night a delightful roster of guests attended Maggie and Hubert Delany's Oceanie 70 foot Yacht Venture at Lincoln Harbor Yacht Club as they held an especially festive fete in lieu of Macy's 4th of July Independence day celebrations.
As chaperoned by Maggy Delany (eternal preferred hawt bixch), her husband, Hubert Delany, Alex Harris and Dr Shireen Fernandez (she must be getting tired of waiting for the ring by now?) a multitude of guests were treated to delightful repartee, a 3 course dinner, sweeping views of the fireworks (best kept secret is the harbor at Weehawken, NJ) and sweat intoxicating music as the fireworks began pouncing over and above us. To be quite forward, if one didn't find themselves tingling unabashedly (or enjoying the champagne) whilst nirvana blared up ahead then they certainly were not on this boat.
Actually to be quite candid, we were all quite spoiled as we were offered 2 yachts to celebrate the occasion (one for food and drinks, yes Hubert I will gladly come back the next time you have a tete in my very own private cabin ) and the other, a relic steamboat called 'The Diplomat'  (as the name suggests, many well known politicians from the past have been on it including FDR. We were literally dancing & drinking (respectfully) on a piece of history!!) that had us I am willing to bet the best real estate in NYC as we watched the world rain down a melting palette of colors on this part on our fete.
Notable guests included Tabber Benedict (yes, he told me he doesn't want any more press but the bixch was made for the camera), cover model Anna Huzar (who is just a delightful bon vivant and made my blood rise a few degrees as she stood next to me), Crystal Hayward (another hawt bixch), Frank Profeta, PMC's Andrew Toth and international recording artist Cristina Fontanelli as well as everyone else whose name I don't have a chance of remembering this moment. It was truly a remarkable evening indeed….
SCEPN officially merge. Soiree takes place at the Sanctuary.
Fireworks with Society Choice new friends Maggie and Hubert's 4th of July 'too big for you' yacht party.