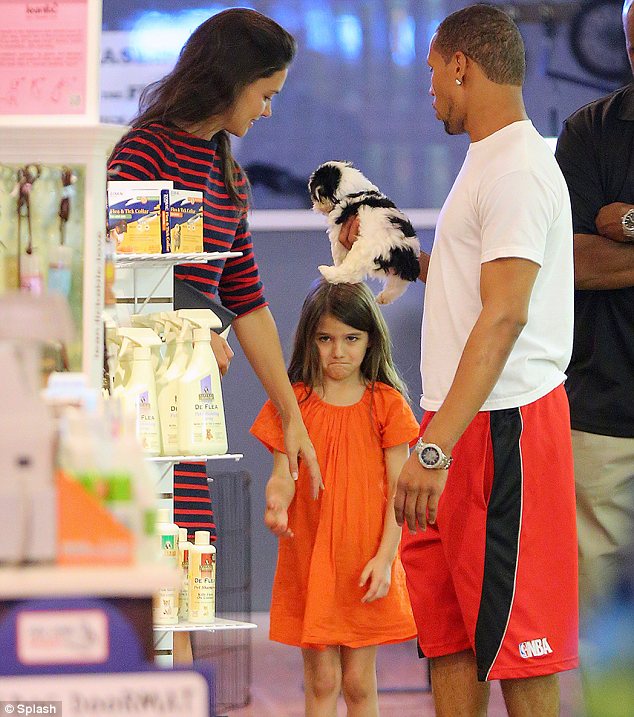 Not everything Suri Cruise wants is what Suri gets…
There's nothing quite as endearing as a 6 year old crying for something that they can not have. Then again some would say it can be equally nauseating watching a 6 year old cry and whine for those things that it always wants as well…
Such were the scenes over the weekend when Katie Holmes walked into a pet store here in NYC with her 6 year old Suri who must have thought her mommy was going to buy her a new treat when Suri's world imploded when Katie refused to let her little girl come home with a new friend that Suri by now was coddling up to.
Perhaps it was because Katie sensed all the responsibility that would go into taking care of a new pup or simply she just wanted young Suri to understand sometimes not even Tom Cruise's little girl gets everything she wants.
As she pouted and pulled a myriad of faces little Suri was eventually inconsolable as the black and white pooch thrust it's bug eyes at her:
'Please Suri. Please take me away from here. I want to be your new best friend.'
'Yes mommy. This is my new pet, I love her so much already. Let's take her with us.'
But it was not to be as the Yorkshire terrier and Maltese mix at Citipup would have to come to understand that another new owner would soon come to take her home with them. Of course that didn't go down with Suri who was forced to reckon with the sometimes inequity of being. Oh dear Suri hopefully like us you will get used to the heartbreak as it all comes rolling down the freeway….