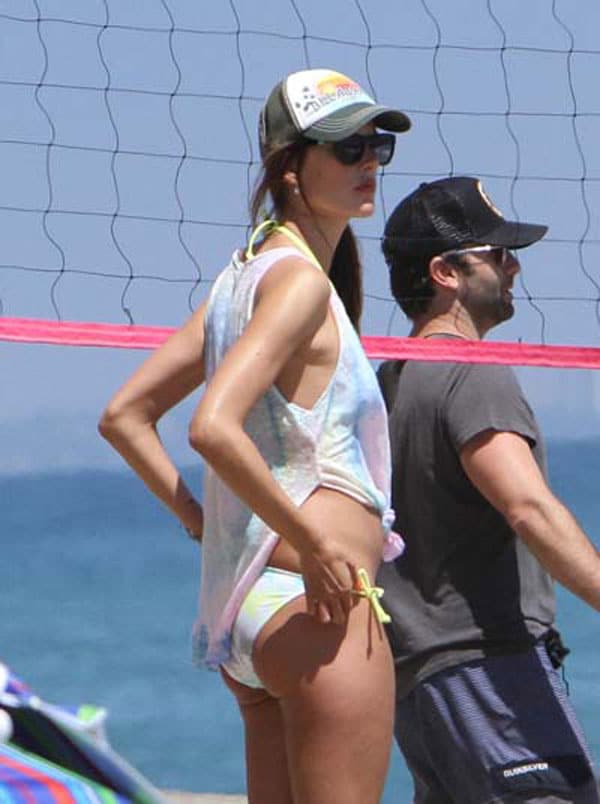 There's nothing better than causing widespread envy when you are a supermodel who can give birth and within two months be back on the beach unabashedly celebrating those very assets that made you famous and rich in the first place. That's right kids I'm talking about Alessandra Ambrosio's charm ass.
Spending the whole weekend simply playing volleyball on Malibu beach with her family it was reported onlookers had to be rushed to hospital after some of them inadvertently poked out their eyeballs with a screwdriver after extended bouts of taking in Alessandra's lean slinky appearance. In fact one of the screw drivers miraculously ended up in my possession. All I have to do is wipe off the blood and seaweed and begin diligently stabbing into my eyeball too.
Don't you wish you could make all men moan and groan for your presence too…unless of course you already do….
So what exactly goes into making a successful Victoria's Secret fashion show? A behind the scenes peek as the show is set to go on tonight in NYC.
Alessandra Ambrosio would like to confirm she looks hawt in a pink bikini.
Supermodel Alessandra Ambrosio hosts 'Follow the Sun.'