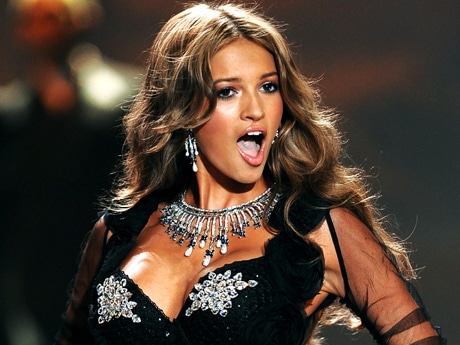 Kylie Bisutti's journey to fashion's heights illustrates one of the most compelling stories to date. Intrigued by the natural beauty who hails from Nevada and who just over a year ago decided to put aside her ambitions to pursue a career in modeling only to take one more shot by entering Victoria Secret's national competition and winning it and now starring in Maxim's upcoming September issue (she was featured already earlier this year) I decided to sit down with the effervescent Kylie and find out about some home truths about what it actually takes to make it as one of the 'it ' girls of the moment. What you'll read will hopefully fascinate you and perhaps make us all aware about some of the behind the scene moments we rarely read about.
SCV: I read in your profile with intrigue that you almost gave up modeling. I'm curious as to why?
KB: I had just gotten back from NYC where I was based last year and I was offered to come along and help run my dad's business. At the time even though I was booking gigs I found it a little disparaging that my bookers and the clients kept perceiving me as this big girl who had to become even more lean and take on this fragile persona if I was to book more work. And frankly that wasn't me- I'm an athletic girl, hippy, you know I've got hips like a lot of real women and I found it surprising that at a size 2 I was considered one of the big girls.