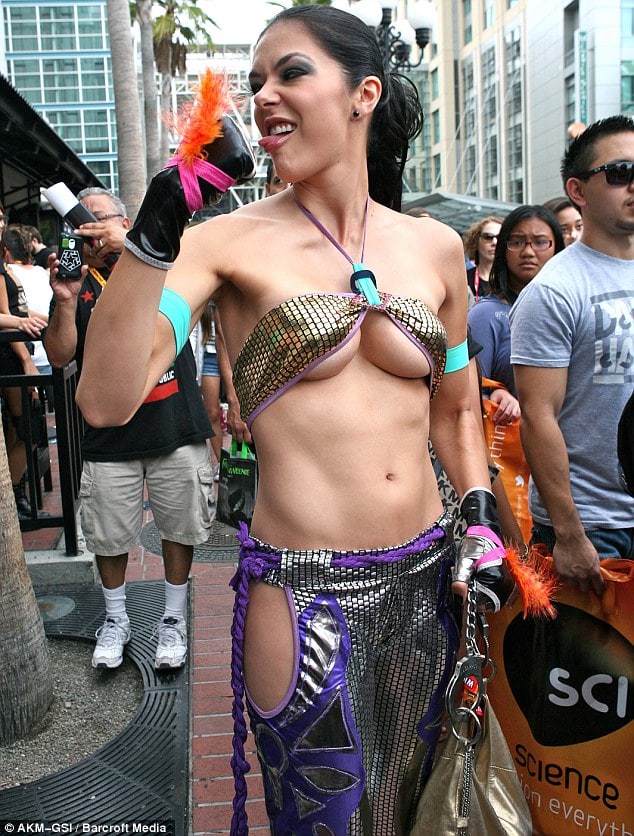 Kids it looks like Adrianne Curry has once again found herself being the preferred hawt bixch of  San Diego's Comic Con, yet this being Adrianne being the crowd favorite didn't come with some degree of controversy.
Banned from last year's Comic Con by organizers for wearing her infamous itty bitty non existent Aeon Flux outfit (oh well) Adrianne once again had onlookers looking for blunt screwdrivers to plug their eyeballs out with as she once again took to the event with a new equally daring itty bitty costume. But to be fair to Adrianne there was a little more cloth involved this time, not that anyone who still had eyeballs left was paying attention to the cloth.
But not all was rosy. Tweeted our Adrianne: I got mobbed the other day&a few people were grabbing me hard&damaging my costume in their attempt2get pics1st. Made me feel like an animal
Yes Adrianne the same shit happens to me when I stroll down the street in my sheer summer g string. But what are hawt bixches like us suppose to do? Can we help it everyone wants a piece of us?
And there was this tweet too: I don't know if I can do another con day. I am exhausted from meeting&greeting 8 hrs a day..have no voice.
Adrianne: Surely you can post a notice on the back of your itty bitty outfit that goes something like this: "Gawk and stare all you like but today I am too tired to partake in your wishful come ons. Have a nice day bixches- love Adrianne."
Don't you wish you were a hawt bixch too?
Adrianne Curry twitter: Would like to remind you that she's worth salivating over.