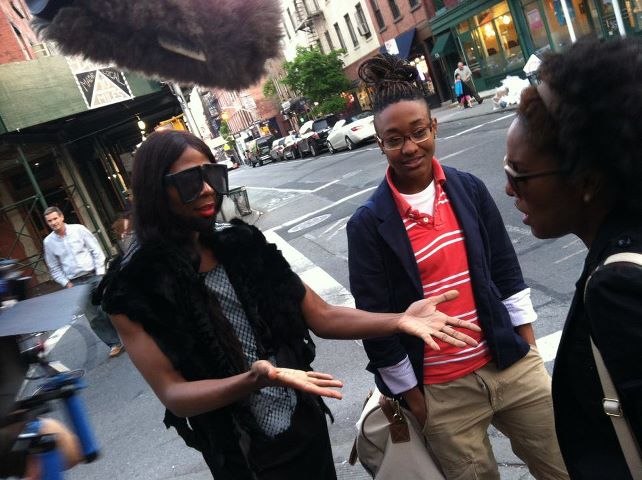 I'm not going to say too much. Just hold on to your laughter buttons and watch to abandon as uber fashionista (is he a boy or is he a girl) Andre J goes out in the city and delightfully terrorizes unwitting passerbys as to the contents of their bags.
The show (on internet format) a year in the making alongside the Frei group pits the wits of Andre J against those of what at first appear to be chic New Yorkers. But watch out. Offers Andre J:
"You'd be surprised to find out what people offer in their bag and how quick they are to be back down when you demand to inspect what they are carrying. For most it's a secret and often says more about who they really are as opposed to who or how they would like to be perceived."
Indeed….
And there's this condensed pr release that may help those of you who have yet to be acclimated with Andre J as to who the man/woman behind the madness really is. Enjoy as you undoubtedly will….
He has worked with such industry greats as Patricia Field, Tyra Banks, Nick Knight, Bruce Weber, Whitney Houston, Nicola Formichetti and the duo Inez van Lamsweerde and Vinoodh Matadin.   Andre J made history on the cover of Vogue Paris and has been featured in Arena Homme + and Harper's Bazaar China. Most importantly, however, is the message of positivity by which Andre J lives his life.
Offers Andre J: "My greatest accomplishment is loving the universe, myself and others. Living my dream based on love and positive energy. Inspiring all to be true to themselves."
WhatsInYourBag?! – Superhero Dre from The Frei Group on Vimeo.
What's In Your Bag?! – It's Alive from The Frei Group on Vimeo.