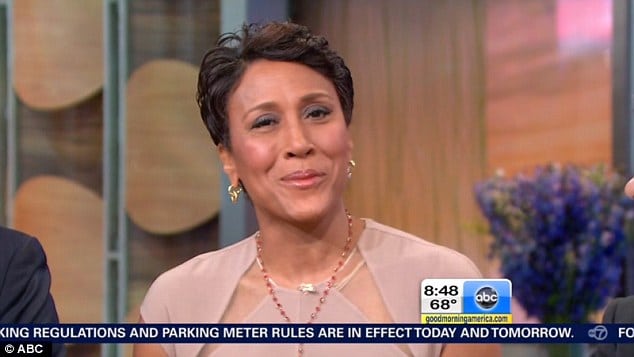 Oh no! GMA's Robin Roberts wont return till mid 2013. Too risky!
Good Morning America host Robin Roberts did the unthinkable this morning when she announced live that she has been diagnosed with a blood and bone marrow disease called MDS.
The announcement led to an immediate outpouring from Robin's co hosts who rallied behind her as she began sobbing that she has every intention of beating the disease. To date, the anchor, who battled breast cancer in 2007 (do life's challenges ever stop?) has indicated that her sister, Sally-Ann Roberts will be her donor, as she is a perfect match.
After her announcement was made, her concerns became a trending topic on twitter.
Tweeted actor Rob Lowe: 'My best thoughts to Robin Roberts at #GMA She's a great lady and a fighter,' 
Yet it was her co anchor, George Stephanopoulos who showed the most grace and class as he took Roberts hand as she made her announcement and comforted her, never once betraying his own sense of alarm.
Tweeted Stephanopoulos later:
'All our love and prayers with @RobinRoberts. She'll beat this with all the grace & grit she's had her whole life.'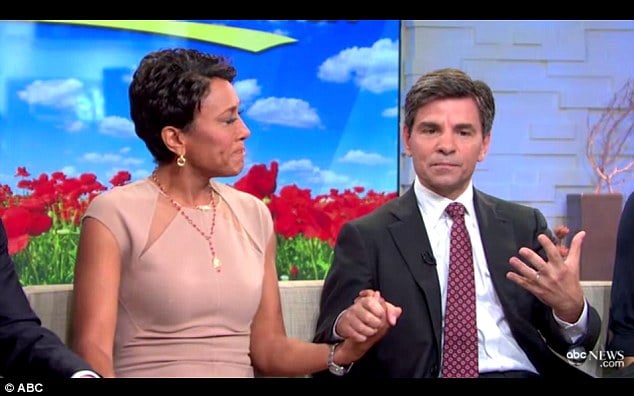 It is thought that Ms Robins who has privately known about the disease for a few weeks now (but decided today to share her condition publicly) will undergo chemo and bone marrow transplant this year as a 'pretreatment.'
Offered the host that today would be the first day of her treatments and she decided to share her condition in an effort to assuage viewer's concerns as the next few weeks and months came which would invariably leave Ms Robbins worse for wear.
Ms Roberts has vowed to continue her rigorous schedule at ABC, even if she admits there will be days she will have to take off.
According to the Mayo Clinic MDS can be summarized as follows:
MDS can be broken down by its name: Myeloid refers to a type of blood cell; dysplasia means a problem with the development of those cells.
The condition occurs when "something goes wrong in your bone marrow — the spongy material inside your bones where blood cells are made."
For more information on the disease go here: