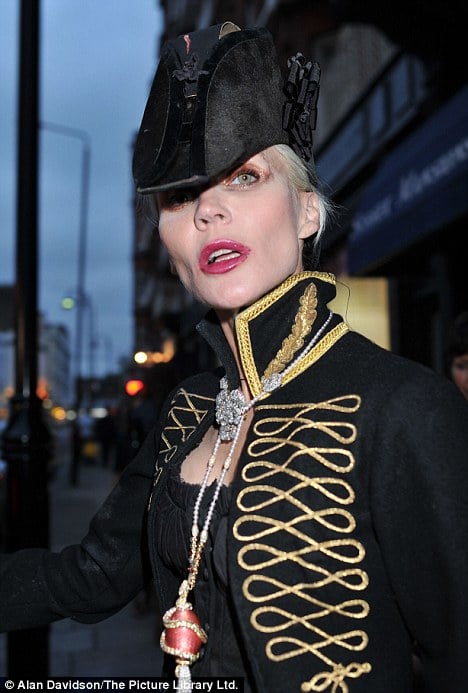 As per usual Daphne Guinnessyesterday found herself the center of attention when she turned up to a pre auction fete at Christies London dazzling in one of her kitch outfits.
Choosing this time to evoke some naval flair, our highness came dressed in an Admiral style coat and hat whilst wearing her wicked platforms courtesy of Noritaka Tatehana. To be sure Ms Guinness cut the rather fetching site.
There to attend the event which sees our highness, Daphne Guinness auctioning up to 102 of her one outfits for charity (all proceeds will benefit the Isabella Blow Foundation) was designer Gareth Pugh who looked equally beguiling in his own matching regalia of black tights and exposed black coat and of course striking eye liner.
The sale is expected to raise over 100 000 pounds and one of the highlights of the exhibit includes a silver dress as designed by the late Alexander McQueen. Other items set for sale include pieces by Christian Lacroix, Chanel, Pugh, and the designer of her extreme footwear, Noritaka Tatehana.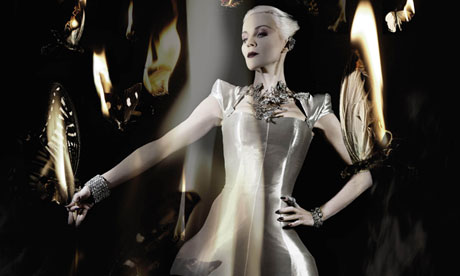 It is also thought that tonight's proceedings set to begin at 7pm London time at Christies will be an emotional one as the recently deceased Isabella Blow was the stylist most credited for launching the career of the late Alexander McQueen. In a show of solidarity our highness, Daphne Guiness had last stepped up to the plate and had bought the entire collection of Ms Blow's collection as to prevent it from being fragmented and is hoping that with the sale of some of her own clothes at tonight's event she may be able to stage a showing of Isabella's collection at the nearby Central Saint Martins college.
Daphne Guiness retrospective opens at F.I.T.
Daphne Guiness will make you jealous when you get round to turning up to her wardrobe exhibit.
The top ten fashion whores of NYC.