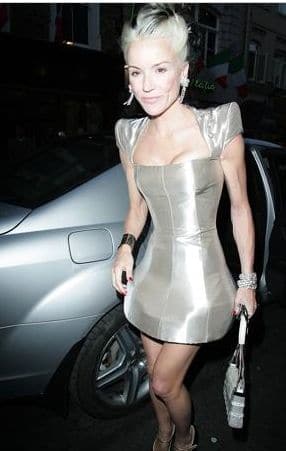 Thursday night saw the unveiling of Daphne Guinness' fashion retrospective at FIT as a fitting close to NY Fashion week, which will go until January 7th, 2012.
With opening night festivities sponsored by Kim Crawford Wines, Guiness and fellow fabulous fashionistas celebrated the night with some her favorite fellow fashion icons – Oscar de La Renta, Valentino, Zac Posen, Christian Siriano and a host of other notables including Stefano Tonchi, Linda Fargo, John Dempsey, Patrick McDonald and Susan Bartsch.
Guests sipped on sauvignon blanc while ogling approximately 100 garments and accessories from Guinness's personal collection which included the likes of Chanel, Nina Ricci, Christian Lacroix, Alexander McQueen, Dolce & Gabbana, Dior, Valentino, Gareth Pugh, Tom Ford and Rick Owens.
Daphne looked dazzling with her platinum-and-black striped hair, towering ten-inch heels, and chrome colored sequined dress by Hogan McLaughlin, a 22 year old Aussie newcomer to the fashion world (whom reportedly Daphne discovered on twitter). From her to-die-for couture collection to her amazing jewelry, Daphne Guinness completely embodied the rarified personal style of a fashion icon.
"She is one of the—if not the—most stylish women living," said designer and film director Tom Ford. Her fans in the blogosphere describe her as "the ultimate fashion fantasy."
The Daphne Guinness exhibition reveals how Guinness, who is not only a serious collector of couture but also a creative force in her own right, uses fashion to transform herself. As her friend, art historian, John Richardson, puts it: "She's the object of her own creativity. Her persona is her own masterpiece."
Although Guinness has inspired some of the world's greatest couturiers—from Karl Lagerfeld to Valentino —she says that she is "not a muse," but more like "a bee" flitting from one designer to another. This is proven by the array of designers whose work is on display.
Press on the immediate below link to see Daphne's dresses and find out what FIT's Valerie Steele had to say about the exhibit.
DAPHNE GUINESS WILL MAKE YOU JEALOUS WHEN YOU GET ROUND TO TURNING UP TO HER WARDROBE EXHIBIT.