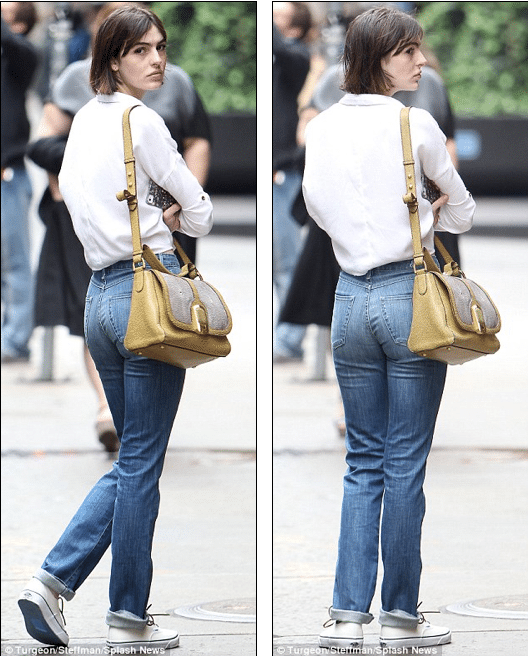 Ali Lohan– has she taken this 'modeling' thing too far?
As sister of omnipresent media whore Lindsay Lohan, Ali Lohan has of late been trying her hand at also being Little Ms Popular, but judging from her diminishing looks and dubious health it's questionable that she's having a good time of it as question marks once again spring up as the aspiring model was seen yesterday strutting her stuff downtown NYC.
Going for an edgy look of 'mom' denim (that's right kids, Ali is calling the retro trend) white tennis shoes (and white socks too?) and a dour shoulder bag, the quickly disintegrating Ali Lohan (she is said to have shed quite a lot of weight since signing with Next Models last year) is hardly doing herself a a favor.
Having come under attack for her diminishing figure, media whore and gate keeper to the good life and his daughter's cash cow machine, Michael Lohan has in recent times come to his daughter Ali's defense arguing that she 'just wants to be thin because she's a model.'
Offers nutrionist Rania Batayneh: 'I would estimate her weight to be under 100 pounds, which for any woman of her height of 5'8 1/2 is clearly underweight.'
But then again, this is Ali Lohan just hanging to be a model, at whatever cost it takes. Judging from her dour look, Ms Lohan may have to come up with a new game plan to win aspiring fans….
via dailymail.co.uk
Ali Lohan is doing her best to be as emaciated as possible.
It's time to find out how scary skinny Ali Lohan really is…
Ali Lohan still believes she didn't have any plastic surgery.
Ali Lohan really is a hawt bixch. Sorry fashion victim….
Ali Lohan, sister of Lindsay Lohan gets signed on by Next Model Management. But can you believe it?