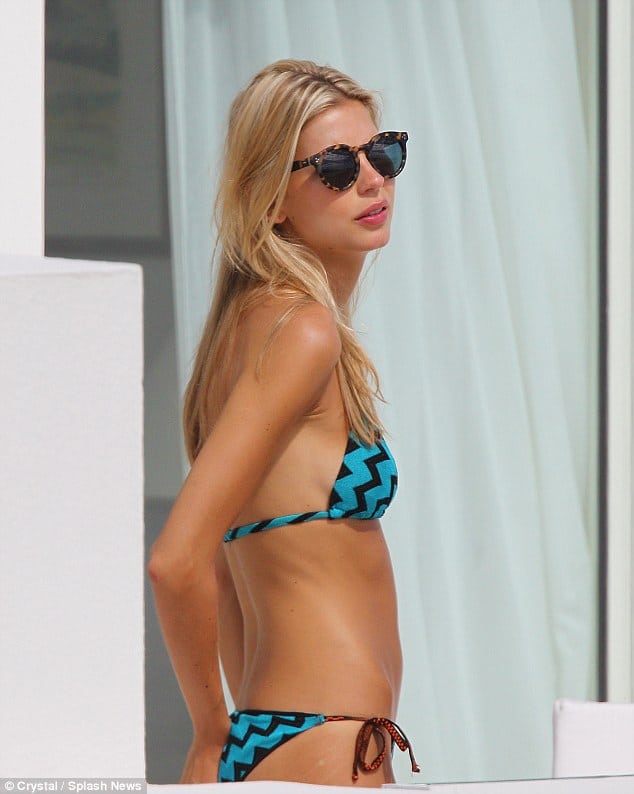 Jessica Hart would like to remind you she is a very hawt bixch.
Kids it's time to take out your sun tanning lotion and liberally apply the good shit over those pert pecs, brazen shoulders and those taut belly buttons and let's not forget those lean long legs too. Why? Cause you bixches are requested to formally show off the good shit as we now officially head into Memorial Day weekend here in the US and some of us I(Jessica Hart and good bixch friends) live it up in Cannes.
dailymail.co.uk: While others attended photocalls and slept off hangovers after the fabulous yacht parties, the Sports Illustrated model preferred to enjoy a few hours of suntanning her fantastic figure, in a brief bikini.
Relaxing at the Eden Roc hotel in Antibes, France, Jessica made sure to sun herself from all angles in her stunning turquoise and black zig-zag bikini.
From all angles? The sun must be squinting at itself wondering where it can get its own shades. But this is just the glamorous amongst us reminding us all which way is up…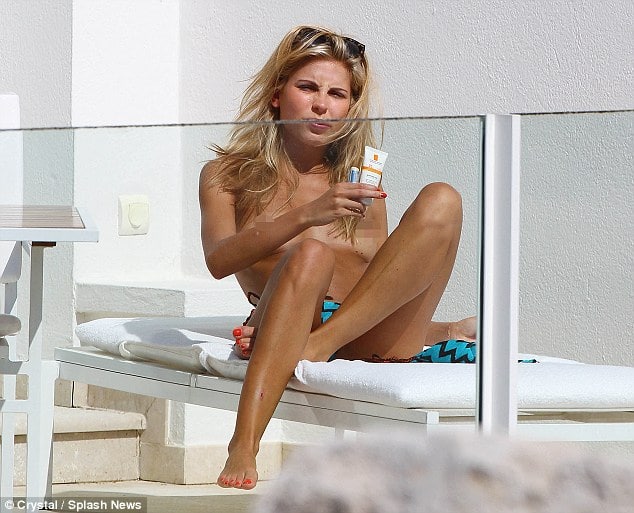 And the dollops of sugar smut continues:
She wasn't completely alone though as she was soon joined by her boyfriend Stavros Niarchos II,  the Greek shipping heir, who wasted no time in giving her a tender kiss. 
Sun-loving Jessica was recently seen garnering plenty of attention as she sunned herself on Miami Beach.
This time she wore a hot pink bikini and shielded the sun from her face in a large wide-brimmed beach hat smiling the gap-toothed grin she has become famous for.
Which reminds me in my next life, instead of a despised tabloid hack I'm going to come back as a revered Sports Illustrated candy bar or better still a half good looking son of a wealthy Greek shipping family scion.
Isn't it time you traded up too? In the meantime be sure to liberally apply the good shit over those long lean legs….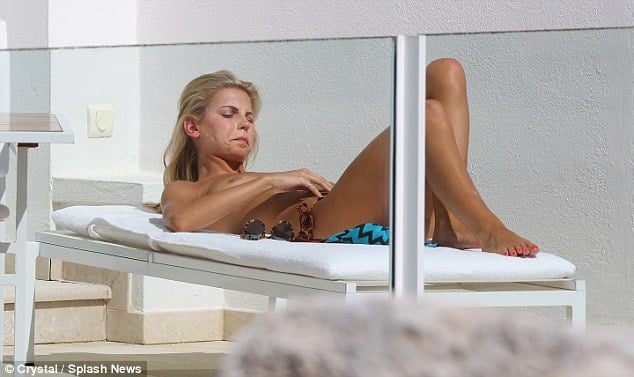 Super model Jessica Hart said to want carry on brawl with Adam Hock posse on the street.
Supermodel Jessica Hart goes on twitter declaring Adam Hock is a freaky liar.
Booze brawl: Supermodels, princes, shipping heirs and the fist fight from Hell.
Yep it's true, super model Jessica Hart is dating super millionaire Stavros Niarchos.