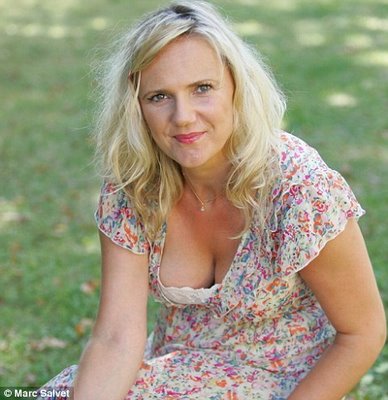 Samantha Brick now backtracks on American TV: I'm not beautiful!'
Samantha Brick just another extension of the Daily Mail's love hate and more hate for women.
How much beating over the head can Samantha Brick actually take…?
After a wicked tongue and twitter lashing after her ill advised article for the dailymail where her highness, Samantha Brick extolls languorously as to why she is detested by so many women (she comes up with the epiphany that it's because she's outstandingly beautiful) the world over has given their judgement on the affair called – 'tell me that women is just a silly delusional twat who is full of herself and has no concept of reality.' 
Nasty I know, but if I were to tell you that is just the polite version of what most people are saying about Ms Brick (twitter#samanthabrickfacts)  perhaps you'd hardly be that surprised.
Who though isn't too pleased with Ms Brick is the outlet called beautifulpeople.com who specialize in bringing together overtly beauticious types together for the sole purpose of dating other equally beauticous types. The caveat about this group though is that they and not the administrators get to decide if you stay in the group. And judging from the chart below, it doesn't look very redeeming for Ms Brick who it seems is being vehemently booted off the site:
prnewswire: 22 hours into the 48 hour rating period and after over 5400 votes cast, it's not faring well for Samantha Brick.  Samantha has received a vast majority of unfavorable votes and is on her way to joining the over 6 million BeautifulPeople.com rejects worldwide.
Link to View Samantha Bricks rating graph after 22 hours:
http://dl.dropbox.com/u/3974080/BP/samantha_profile.png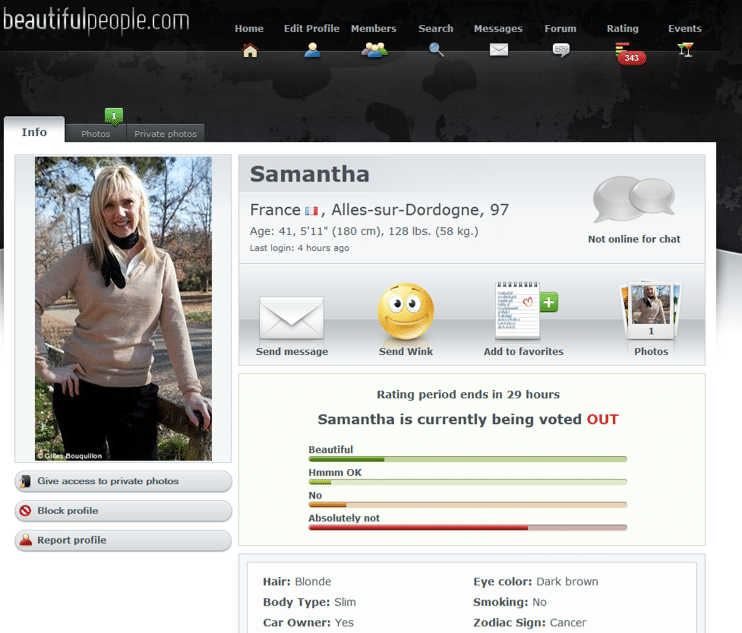 On another note, I've also taken the liberty to publish in part an interview that Ms Brick did with the UK's independentabout the ensuing furore over her article. Here is a snippet and I would encourage you to go to the link to read the balance.
Oh dear if only the world were as beautiful as Ms Brick imagines herself to it to be in her head….
Here is a transcript of part of their conversation.
Looking at the article, I thought it was brilliant, but I wasn't sure if it was real…
I'm 41, so in the articles there are several aspects of my life that have been compressed, but it was never my intention to brag or do a Gwyneth Paltrow "look at me". I just wanted to put forward my life experiences.
People have been outraged by the article, how have you coped?
It really helped living in France. Where I live is in the middle of the countryside, in rural France, so somebody only comes by once or twice each morning, so I feel quite protected from it. I'm travelling to London now and I'm feeling a little more frightened.

The Mail commissioned the articles. What have they said?
The Mail have been amazingly supportive, they've been on the phone asking if I'm OK, making sure not too many people are getting in touch with me. I've had support from dozens of female journalists, and I've been touched by how supportive colleagues have been, from Grazia [magazine] to Jan Moir, who's been through it with the Stephen Gately situation.
Has Liz Jones been in contact?
Not that I know of, but my phone has been dying.
Did you write the articles in the knowledge that the Mail requires a certain tone?
My background is in television, in reality shows, so I've always known that it's all about the story. So I apply those principles to my own work. There's not a great deal of difference – it's the candour. I've had thousands of messages – yesterday it was mostly bile, but not today. That's what confessional journalism does, you echo the experiences of women who don't have a voice.
People have supported you saying that looking good is essential? Even in business?
I think there's a really delicate line to toe. In every meeting that you hold, it's all about how you look. You're treading the line between not offending the men, and not offending the female bosses.
Samantha Brick article leads to the Daily Mail now banning commentators.
Samantha Brick: 'This bile just proves I'm right!!'
Samantha Brick would like to confess to us its awfully hard being a preferred hawt bixch.