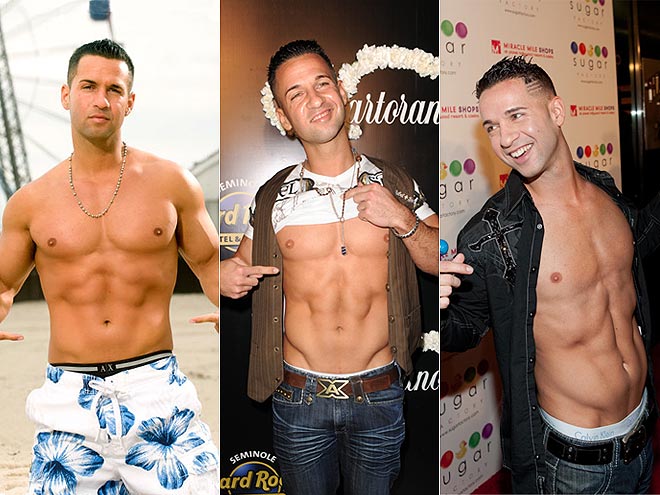 It appears another celebrity has cried "exhaustion," and entered themselves into a rehabilitation facility. This time the poor suffering soul is Mike "The Situation" Sorrentino.
The reality star confirmed on Wednesday in a statement on his website:
"I have voluntarily taken steps to get control of a prescription medication problem I had due to exhaustion. I have spent the past several weeks getting treatment for this problem and recuperating from my work and appearance schedule. I appreciate my fans support and love you guys."
I feel bad for "exhaustion," it sure is getting an awfully bad reputation these days. From Demi Moore's failed marriageforcing her to become "exhausted", to Jason Russell running around naked through the streets blaming "exhaustion," the poor measure of emotional strain just can't catch a break.
It makes me wonder, however, how all of the millions of Americans, working countless jobs to get a meal on the table and to pay to put their children through college during a flailing economic period, keep from succumbing to said, "exhaustion." I fear that soon I will look out my window and see neighbors running rapid, getting hooked on drugs and smoking crack, because they just can't "deal" with the stresses of everyday life.
I guess the life of a celebrity is different. It must be much more stressful for "The Situation" than the rest of us. He has to drink and party all summer long. He has to keep up his tan and make sure his abs are rock hard, in order to please the brands he advertises for. Such responsibilities must prove extremely exhausting trying.
It is also interesting that this story broke only a day or two after the announcement of filming for season 6 of the Jersey Shore. Much attention was attributed to Sorrentino's pregnant co-star, Snooki Pollizi, making her a trending topic.
In true "Situation" form, he stole the show (so to speak), and confirmed the allegations that he actually had entered a rehabilitation facility. Interesting timing Sitch, very interesting.