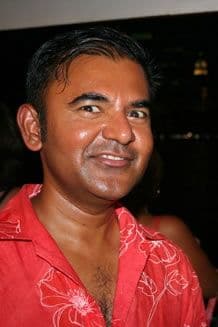 Easy come and now easy gone….
Oh dear what to say, what to think kids?  These are the thoughts that run through my scattered mind this morning with the revelation that New York City's preferred party crasher and non desirable  Priyantha 'I can always lie through my front teeth and still have you believe I am a movie producer (sorry dear but if the hat fits…) De Silva' has pled guilty to fourth degree larceny.
As was reported earlier this year our collective hero was arrested after crashing the Elizabeth Seton Pediatric Center's November 2010 Going Gatsby gala. He then went on to then bid and buy a Prada bag during the silent auction ($1500) and the cost of entry of the event ($150) with a credit card which surprise surprise turned out to be fake. Do such things still happen kids?
At the time our hero was arraigned with bail set at $7500 but unfortunately for our multimillion dollar Bollywood producer (yes I still have the business card somewhere in my closet) he couldn't come up with the cash and was forced to languish at Rikers Island jail until returning to court this week.
Offers the NY Trash Post: The incident was the latest in a string of De Silva antics over the years, which included impersonating editors at Condé Nast and producers of the movie "Crash" to get into red-carpet events, as well as allegedly writing bad checks and opening fraudulent bank accounts. De Silva also had a warrant out for his arrest after he was cited in 2009 for urinating in public on Meadow Lane in Southampton.
De Silva also had a reputation for bad behavior at parties. During the American Antiques gala preview at the Metropolitan Pavilion in January of last year, he fell asleep on a table as Martha Stewart and Citigroup chairman Dick Parsons mingled nearby.
If I can be succinct kids I do remember our hero falling asleep on the bench that evening but I thought too kindly to wake him up from his slumber but then again a few glasses of the good shit will put me to sleep as well if you must know.
The moral of the lesson? Party crashers of NYC beware because we're all watching and where there is a will there is a way your phony ass will finally be outed. Not that I care about all these lousy society parties so many of you desperately covet but let's admit the grog on occasion and the idle banter can be invigorating. Or not.
Our hero De Silva will be sentenced next month. His lawyer Philip Rauch failed to return calls to the NY Post. Can anyone figure out why?
Infamous party crasher Priyantha DeSilva arrested.
Notorious crasher Priyantha Silva 'gives out fake debit card' at New York gala