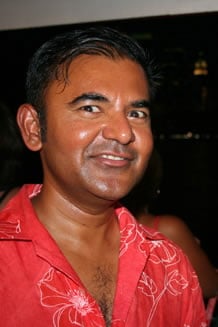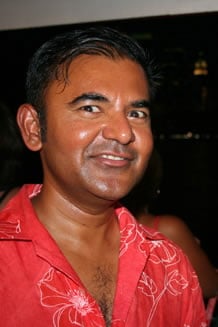 Society poser Priyantha De Silva pleads guilty for being a scumbag … 
Bad behavior in society continues….
Priyantha Silva, one of New York's most notorious party crashers, has struck again, allegedly giving a fake credit card to pay for luxury goods at a charity event.Witnesses say Silva, who's been crashing parties since 2006, got into the Elizabeth Seton Pediatric Center "Going Gatsby" Gala at the Harold Pratt House on Nov. 11.
According to a police report, a man identified as Silva attended the event without having a ticket and took home a $1,500 Prada bag he won during the silent auction.
A source told Page Six, "He was there the whole night. He was his typical sweaty, drunk self and wore a red velvet smoking jacket. He went around the party telling everyone he was the producer of the movie 'Crash' and also said he was buying the Prada bag for one of his many girlfriends."
(editor's note- last time we inadvertingly ran into Mr Silva he told me he was the producer for Slumdog Millionaire, never mind the sudden unease he felt when a certain young lady- a well known publicist- told him outright that no matter how many champagnes he carried across to her (it was open bar after all) she would never sleep with him in a million years- forcing his prompt departure…)- Scallywag.

According to witnesses, Silva tried to pay for the bag with a blank check. But when told he had to produce a credit card, he handed over a Bank of America debit card — which later allegedly turned out to be fake.
"It's one thing to crash a party, it's quite another to steal from charity," said lawyer Kelly E. Jones, a board of trustee and chair of the Young Friends of the Elizabeth Seton Pediatric Center, who filed the police report on Friday.
Reports say Silva, who sometimes uses the last name DeSilva, has had multiple complaints filed against him since the mid-'90s, including for insurance fraud and larceny.
In 2006, Silva reportedly registered the domain name CondeNastOnline.com and attended events posing as editors from magazines including Vogue. He made headlines by crashing parties including 2008's Cosmo's Hottest Bachelors of the Year, Bridgehampton Polo and a Tribeca Film Festival event in 2009.
Southampton police confirmed a warrant is out for his arrest stemming from an August 2009 incident in which he was cited for urinating in public on Meadow Lane. He could not be reached for comment.
Let's hope he's at least drinking the good stuff in whatever hovel he lives…