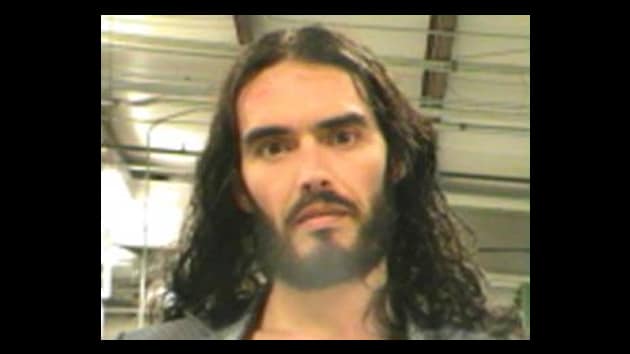 Russell Brand insists he is still a preferred hawt bixch….
Oh dear, things didn't get up to a great start for the actor the other day. Then again Russell will probably put his smash and grab a paparazzo's I phone as one of the those after dinner conversations that will turn future girlfriends giddy. I know if that bixch started whispering in my ear how he stood up to the tyranny of photographers abusing the privacy and idol status of Hollywood greats my groin would begin to jizzle. But that's me, I'm some sure of you would play a little harder to get than I would…
independent.co.uk: The controversial comic was detained "without incident" in New Orleans yesterday and released shortly afterwards after posting bail, police said.
Police had issued a warrant on a charge of simple criminal damage to property valued at 700 dollars (£445), after a photographer accused the comedian of grabbing his iPhone and throwing it through a window.
Bail was set at 5,000 dollars (£3,184), a spokesman for the New Orleans Police Department (NOPD) said.
Brand, 36, is in New Orleans to work on an untitled film.
And just so you understand how much Russell deemed his deed as an act of defiance to the tawdry world that we are all increasingly living in this is what he had to tweet:
"Since Steve Jobs died I cannot bear to see anyone use an iphone irreverently, what I did was a tribute to his memory."
And if we translate this to the hidden message that Russell really meant to convey you'd end up with the following tweet instead:
"Using the name of an icon that I chose to bastardize for my own personal media whore cause was worth all the temporary inconvenience of having to drop by the police precinct for the most ideal paparazzo picture I could have ever hoped for.
Steve I know you're proud of me….lol Russell"
Is Katy Perry dating Karl Lagerfeld's rent a boy toy?
Hollywood actor Russell Brand declines to take half of Katy Perry's 44 million dollars.
Russell Brand calls it quits with Kate Perry- seeks immediate divorce.