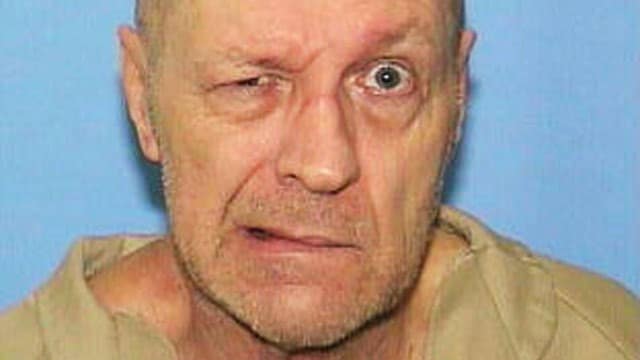 It has to be one of the most damning things in the world. To be summarily executed at the hands of an individual bent on your destruction. Yes such people are rare, but they do exist and with the recent conviction of Robert Rhoades for new double murders attributable to him, one is forced to wonder- what causes men like Mr Rhoades to exist and how does one identify men like him admist us on the outside….?
huffpo: HOUSTON — A Texas trucker who kept a torture dungeon in the cab of his long-haul rig has avoided the death penalty by accepting life prison sentences for murdering a hitchhiking couple two decades ago.
Robert Ben Rhoades, who already is serving a life sentence for killing a 14-year-old girl in Illinois, pleaded guilty to two counts of capital murder when he appeared before a West Texas judge this week. He has no chance of parole.
Hardly the most savory character. But since were psychotics and serial killers savory to begin with? What after all makes them tick and take the chances that they take and is it really an emotional detachment that allows them to do the things that most of us would find so unbearable?
Do they plan, scheme, wait for their oppurtunities, prey on people actively or do they react when things suddenly come to them? Continues huffpo:
Described by authorities as a sadistic killer, Rhoades was charged with the 1990 abductions and slayings of newlyweds Douglas Scott Zyskowski, 28, and Patricia Walsh, 24. Authorities said the couple left Seattle in November 1989, and were hitchhiking to Georgia to preach the Christian gospel when they accepted a ride from Rhoades near El Paso.
Zyskowski's body was found in January 1990 along Interstate 10 east of Ozona, about 320 miles east of El Paso. He'd been shot, and his body wasn't identified until 1992. The remains of his wife were found in October 1990 by deer hunters in central Utah, but they weren't identified until 13 years later by dental records.
Police believed Rhoades held the woman captive for about a week, systematically torturing and assaulting her before shooting her several times.
Systematically tortured her and assaulted her for a week? Sounds like Robert the 'friendly' truck driver innocently collecting hitch hikers down the street had a great time beating the crap ouf of this woman. Or maybe she was just being a little out of line and he had to break a few bones here and there just to remind her which way was up? Nothing like a bit of power assertion that lets you sleep at night.
Rhoades was initially charged in Utah with her death, but he was later extradited to Texas where authorities said the kidnappings took place. Prosecutors in Ozona said they would seek the death penalty, but his trial was repeatedly delayed since 2009.
Under the plea agreement accepted Monday, the life prison sentences in Texas would keep him behind bars if he somehow gets out of prison in Illinois. The 66-year-old also agreed to waive any rights to appeals and parole. It's unclear whether he'll stay in a Texas prison or be returned to Illinois.
Huffpo's article then goes on to regale about one woman who had once been held captive by Rhoades who fortunately managed to escape the plight one assumes Rhoades had in mind for her. As you read about the details you keep asking yourself, why am I not getting turned on by this (unless you are?), how does someone find the frame of mind to violate someone on such a visceral level? What goes through their mind? If this girl got away, then how many didn't get away, how many murders do we not know about? Would he do it again if somehow were to get out? Does 20 years behind bars mellow a serial killer or is there always an impulse to do it again and again and when does that impulse come and what would you have done 20 years ago had Robert Roades stopped to pick you up on some deserted road whilst you were hitch hiking?