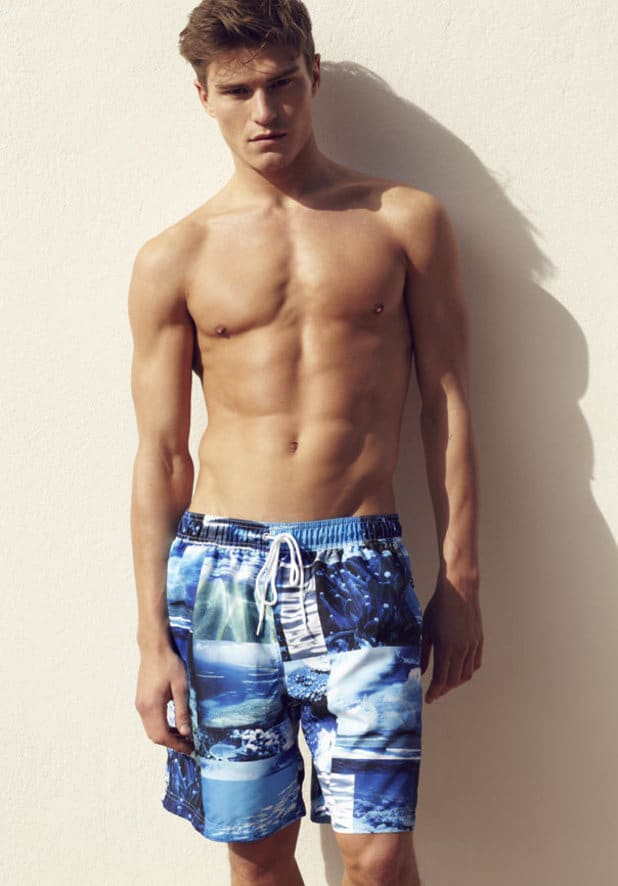 Kids I am to be sure, silently lap dancing with my eye balls dangling over every square inch of hawt bixch Oliver Cheshire's bod. In my mind, like you I have nuzzled my lips behind his ears, whispered sweet baloney and run my fingers countless and countless of times over those abs, my existential sense of self loathing reined in a smidgen this afternoon.
But that is the magic one can imperil themselves as one takes long languorous looks over our collective hawt bixch who knows a thing about being a poster boy for good looks and the aspirations of desperate middle aged women and those who write for them…But like all things forbidden, Oliver is only show pony material and not for the taking.
Modeling for English department store Marks and Spencer (M&S) our ray of sunshine admits like us he has a penchant for fast food and waxes philosophically about one day eating a few extra carbs that potentially compromised the outer lining of his washboard abs.
Tweeted the hawt bixch: 'The @Versace show was absolutely stunning today and sooo full up from all the pasta at the dinner.. Thanks you!! Deffo time for a cocktail,'
and then there was this indiscretion as well: 'Laying on the sofa feeling ill. Just smashed a whole pack of custard creams and watching the worst program on TV '4inaBed' Glamma'
Which led to our collective hawt bixch groaning in another tweet:
'Head is Banging this morning!! Ordered full english to the room and the guy come with a continental. Well dry!! But now I've got both ;),'
Oh dear. Don't do it Oliver. You know half a macaroni strand is all you get if you want to remain center stage in our collective wet dreams.
Kids, Oliver is right. It is deffo time for another cocktail. I'll think I'll have mine now too- 'vodka ala Oliver on the dry side with a wet towel on the side….thanks bartender….