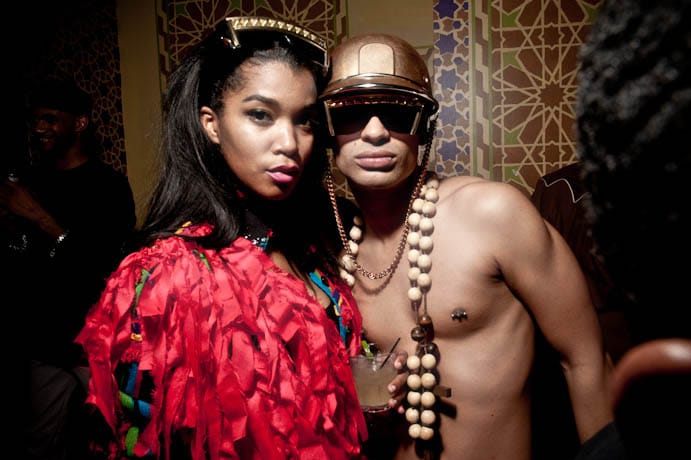 Celebrity eye wear designer, Stevie Boi held a fabulous Fashion Week Party at new hot spot Hanky Panky. It was hosted by Socialite Whore Malik So Chic as well as renowned club promoters Greggor and Anthony Amani.  The crowd rocked out to tunes by Resident DJ LOUIS XIV. And Guest DJ Julian Calvin
Stevie Boi, the designer behind googles worn by Lady Gaga, Maddonna, Nicki Minaj, Snooki, the Kardashians, Rihanna, Lil Kim and many more hawt bixches divas put on a spectacular show invading the red velvet stage in the Vip section with a special appearance by Hip Hop Diva / stylist Lil Debbie.
The bottle service flowed amongst the dressed up crowd and the vip tables swarmed with flashbulbs and hungry fashionistas starved for the spotlight! The crowd of music industry insiders, fashionistas, and ny party people danced til the we hours and appareantly do so every friday at this WEEKLY SOIREE.  The mixture of gay straight and everything in between; made this event a SIGNATURE NY fashion week event. Every friday going forward this trio will be hosting this club night. Hanky Panky is new yorks new hot spot on Fridays. There is a tight guestlist kids, Malik said no walk ins allowed.  But you can rsvp at sochicrsvp@gmail.com to get on the list.
The club is owned and operated by legendary club owner Mr Stuart Black of Mr Black fame. He has created a dream team and one of new yorks most fabulous weekly friday nights in a long time, never mind the eyesore of Malik So Chic on this occasion who chose to dress like a faux sultan whore of Saudi Arabia, no doubt in an effort to seduce the roaming boys who were viciously batting their eyelids at the bixch (oh well….welcome to Malik's life).
Isn't it time you became your own hawt bixch too? See you next Friday kids- love Scallywag.
Next door to Webster Hall-NYC.