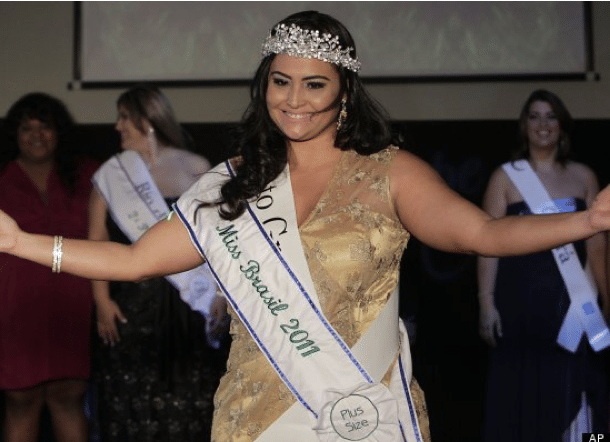 Bigger is actually now better…
While most female outlets will preach until kingdom come that a woman's worth is contingent on her flawless light (under 125 110 pounds) as she comes beauty, over there in Brazil they're sticking their thumbs at us here in America. And for good reason as they shamelessly (and really why has it become a shame to embrace big/ger women kids?) embrace their love of bigger and what many would argue are what most real women look like to begin with.
huffpo: As of January 30, Barbara Monteiro can proudly call herself this year's Miss Brazil Plus Size.
Miss Brazil Plus Size is a beauty pageant that only allows women who weigh a minimum of 175 pounds to compete. The contest has different standards than other beauty pageants, organizer Adelex Gois told Reuters. "Here we are going to reward their real beauty," he said. "So there is no such thing as beauty standards established by the fashion industry."
Well that's refreshing kids. And now there's a new refreshing kink in place…
According to the Associated Press, many of Brazil's bikini manufacturers have started rolling out plus-size lines.
"Finally, it seems like people are beginning to realize that we're not all Gisele," 38-year-old Elisangela Inez Soares told the Associated Press.
So what will that mean for fashion and the beauty industry for the rest of us outside of Brazil who are only quite happy to embrace the female form despite heavily pushed ideals that one often comes across in the fashion or beauty industry. The level of photoshopping really knows no limits kids.
This year's pageant winner told Reuters that she is proud to represent the plus size universe and help fight discrimination. In addition to the title, Monteiro won $6,000 and a trip to Switzerland to participate in a free modeling course.
Time will only tell when designers, merchandizers stop eschewing what most normal woman look like and in fact begin depicting and celebrating them. For now it's back to starvation diets, self hate and the usual photo shop trickery…
L'oreal's Ad featuring a photoshopped Rachel Weisz banned.