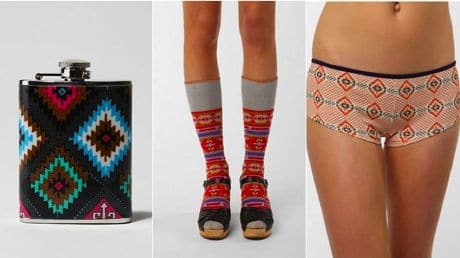 I should get off the bat right now that I have never in my life owned or sought to own what some fashion insiders are terming navajo based clothing and accessories. Apparently the whole issue of outlets creating clothes and trinkets that emulate Navajo (synonymous with American Indian motif) aesthetics has of late caused a ruckus. But then again that's par for the course when lots of money is at stake.
Despite a recent court order that forced 'Urban Outfitters,' (who are infamous when it comes to appropriating designs and styles from other vendors as well as other peek a boos) , from using the term 'navajo' in the marketing of their clothes, courtesy of the Navajo tribe who felt they were being ripped off and deprived profits, as well as negatively stereotyped that still hasn't stopped other vendors from trying to pull off the navajo theme (Proenza Schouler anyone?).
Which raises the question- why shouldn't they? After all pay close attention to most designers, that's all they do, they watch what's trending and then appropriate accordingly. So why is it lately we're getting down on the navajo look or themes? What is it about certain expression of aesthetics that potentially offends us? And what's being offended got anything to do with whether fashion or any form of expression shouldn't still be able to exist for those who choose to consume it?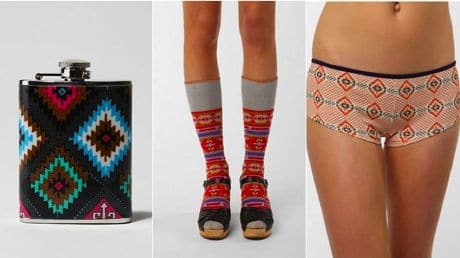 This of course then raises another bigger question, if we're offended (and I'm not quite sure who's offended, is it the Navajo tribe themselves? those consumers who don't buy Navajo themed clothing, fashion editors, libertarians?) by Navajo inspired fashion, why is it that we're not equally offended by say urban homeless inspired fashion, or Muslim based fashion (could you imagine the commotion if designers started appropriating the headdress in their collections, would someone issue a fatwa?).
In fact this is what happened in Paris in 2004:  Jean-Pierre Brard, the mayor of the Paris suburb of Montreuil-sous-Bois, has banned two fashion shows because they featured hijabs (Oct 4 2004). "Ready to wear for Muslim Women", a women-only event was organized by the "Jasmeen" label.
Then there have been designers like Jean Paul Gaultier who some would say really pushed the limits of proprietary with his parody interpretation of the strict Hasidic Jewish dress sense. To his credit he was still able to go on with the show despite much protestation. Although it would be a fair guess to say that that collection didn't sell too well in department stores (if they dared carried it), but then again haute couture designers like Mr Gaultier are willing to risk sales on high end items to extend cache and branding to the less pricier ready to wear lines. Which probably explains why Mr Gaultier is able to get you to part with $300 for one of his t-shirts (really would you pay that if Walmarts suddenly tried to sell you a sexed up image of their version of a $300 t-shirt?).
Despite what some designers or aesthetes create for public consumption and whether it merits gratitude or not, the over riding question remains, why is it that we still feel the right to deplore certain creations and publicly condemn them? Which is to say do we really have the right simply because our tastes are offended to force an art collection, a building, or a fashion line to stop production? Which is exactly what happened to one  Australian swimwear