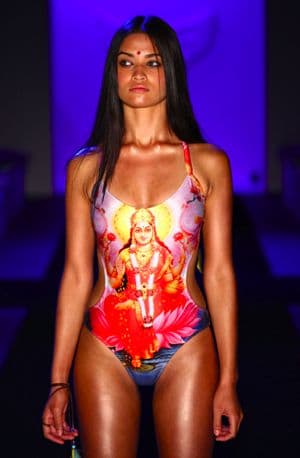 Be careful what you send down the runway…
styleite: When Lisa Burke sent a one-piece printed with an image of HIndu goddess Lakshmi down the Lisa Blue Swimwear runway at Rosemount Australian Fashion Week, she had no clue that an enormous backlash would follow.
Activists were outraged that an image of the deity — who represents wealth, wisdom, and beauty, among other things — was used for such a purpose. Hindu statesmen Rajan Zed explained: "Lakshmi was meant to be worshipped in temples or home shrines and not for pushing swimwear in fashion shows for mercantile greed of an apparel company." Some people were so upset about the offending swimsuit that they burned an Australian flag in Amritsar, India.
Of course this begs the question how concerned should a designer, artist or writer be when it comes to the unveiling of their work and are we to be mindful of social taboos even if we feel that our creativity is just that- a creative vision meant to inspire, provocate and with respect to this design flatter the wearer?
Perhaps one could argue if designers were acutely mindful of what those thought around them, then it would be a rare instance when a designer or artist would go the extra mile.
Burke yielded to the protestors' demands, promising the designs would never be produced or sold:
The image of Goddess Lakshmi will not appear on any piece of Lisa Blue swimwear for the new season, with a halt put on all production of the new range and pieces shown on the runway from last week removed/ The use of images of Goddess Lakshmi was not in any way a measure of calculated risk taking, simply it was a desire to celebrate different cultures and share that through our brand.
This range will never be available for sale in any stockists or retail outlets anywhere in the world. We apologise to the Hindu community and take this matter very seriously.
Granted the designer arguably had no idea that what she had designed would create such unease, but to actually put a halt to production strikes this author as heavy handed and a type of unnecessary editing in the creative process.
After all it would be one thing if the bikini came with a booby trap, but if all it suggests is an image, one has to wonder what's next on the censoring agenda?