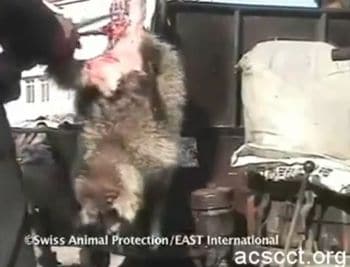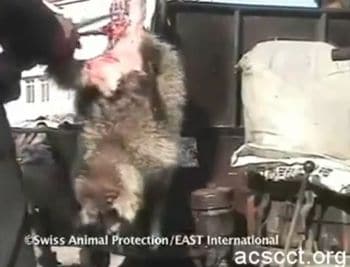 Animal rights activists are outraged pursuant to the release of damning and disturbing video (not for the feint hearted at all kids…ugh) of a Chinese operation where raccoon dogs are literally stripped whilst alive of their fur before being tossed into a pile where it is said that it would take up to three hours before they died. Which is another way of saying one hopes you're really enjoying your fake ugg boots given the blood literally these dogs have given for your comfort.
The shoes which sell worldwide (let's not even try to do the math of how many dogs that involves…) are often used as an alternative by consumers in place of the considerably more expensive wool sheared ugg boots out of Australia,which normally retail for $265. The fake ugg boots are then passed of as original ugg boots (at a steep cost to the original) that are then sold to unsuspecting customers (at the premium price of $265) which perhaps makes the merchandizing of such 'must have' items even more deplorable.
The dogs, a hybrid combination which is part domestic dog, fox and jackal are bred on a Chinese farm. To understand the degree of depravation and suffering these animals are subjected to there's this. At this point this author advises you to put away your cucumber salmon sandwich:
A boot is firmly pressed against the dog's neck in order to avoid struggle. After the animal is skinned, it is thrown onto a pile of carcasses. As the heart continues to beat for five to 10 minutes, the pain and sadness can be seen in the animal's slowly blinking eyes.
Despite the best intentions of many governments who have banned the importation of such fur, it is often next to impossible to discern the hybrid fur of the fake ugg boots to that of the real thing- thus sullying efforts of authorities.
Of course the obvious options exist to veto buying ugg boots but as long as the customer believes he or she is buying the legitimate ugg boots such desires to cut consumption is thwarted. In essence the operators of these Chinese farms are operating under the inconvenience of difficulty of telling one thing apart from the fake. The next idea would be to ask the Chinese government to put a clamp on such a practice, but if one pays attention to Chinese human rights records one oughtn't hold their breath when it comes to the abuse of some dog that's literally skinned alive and thrown in a pile to die a slow putrid death. Then again let's hope you the buyer are luxuriating in your new ugg boots, the blood letting some would argue came very dear….